One of my favourite quotes by William Martin goes like this:
Do not ask your children to strive for extraordinary lives.
Help them instead to find the wonder and the marvel of an ordinary life.
Show them how to cry when pets and people die.
Show them the infinite pleasure in the touch of a hand.
And make the ordinary come alive for them.
The extraordinary will take care of itself.
And that's exactly what Abraham does in his short story collection for children—he shows them the wonder of the ordinary through a ragtag group of characters who are heroes not because of what they do but rather because of who they are—brave and adventurous, of course, but also shy like the little prince, lonely like Jake of Jake's Lake and sad like Roger of Roger Slow. The essence of his stories lies in the fact that the hero doesn't end up slaying the dragon, but rather tames it with a bucketful of love.
The collection is aimed at children aged 5 to 10 and was created as bedtime stories that Abraham narrated to his children when they were old enough. So Wolf Bay, for example, is meant to highlight the danger of dishonesty and the loneliness it can create. Reindeer Stag is his attempt to underline the resilience needed to overcome the death of a parent.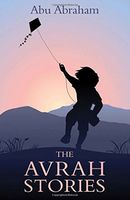 A million children all over the world were thrust into an adult horizon of pain and sorrow when J.K. Rowling decided to kill off Professor Dumbledore, the epitome of everything good and wise. Life is not always sunshine and cotton candy, she seemed to say. Similarly, in Abraham's stories, too—in The Rat's Tale, when you hear the cry of the dying rat with the broken skull, something in you, too, breaks. By not shying away from pain, he gives a three-dimensionality to his characters. And he teaches his little readers a lesson that you are never too young to learn: the importance of empathy.
The Avrah Stories
By Abu Abraham
Published by Troubador
Price Rs795; ISBN 9781784624170