The lengthy title of the book says it all. Renowned paediatrician Dr Gita Mathai has penned a volume on how to stay healthy in modern India, making full use of her experience in family practice for over three decades in semi-rural India and several foreign countries. The book is a compilation of 75 columns which Mathai, who is a national-level swimmer and a black belt in karate, wrote over the last 15 years.
Mathai says she chose to bring out the collection because of the feedback she received for her columns. People, she says, seem to be the most concerned about issues like health, exercise, weight loss and ageing. She felt it was important to answer their key questions and tackle them at home as many of them had to wait for an opportunity to consult a doctor.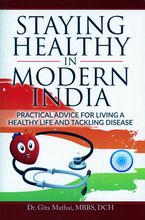 There is hardly a problem that has escaped Mathai's attention. From body odour to AIDS and from snoring to cancer, she tackles them all in great detail, explaining in layman's terms the most critical points. And there are unusual topics like the shape of the ears, the selection of footwear and medical palmistry. On the significance of medical palmistry, Mathai says the medical fraternity has now accepted what palmists had been saying for centuries. "A detailed examination of the palms does provide valuable clues to the medical history, lifestyle, diseases and life expectancy." On the deadly cancer, she offers a word of hope. "Diagnosis of cancer is no longer a death sentence.... There are efficient curative and palliative medical, surgical and radiation treatment."
Offering simple solutions to complex concerns, this book is a welcome addition to family libraries.
Staying healthy in modern India: Practical advice for living a healthy life and tackling disease
By Dr Gita Mathai
Published by Notion Press
Price Rs 350; pages 295