Stones, perhaps, are gatekeepers of bygone generations. Resilient by nature, they hold secrets, in traces, of ancient civilisations, their culture and more, thereby opening up a world that one thought was lost to time. But can something as earthy as a stone have a cosmic connection?
Seek, and you shall find [the cornerstone of every religion or, perhaps, human existence itself], suggests Cosmic Dance in Stone. Veteran architect Ramu Katakam, in his introduction, says the book is "an attempt to discover how the designers of the past envisaged structures that could link us to the stars and help us apprehend the nature of our existence."
The book takes you on a pictorial journey through cave temples—Buddhist, Hindu and Jain—and rock-cut monuments. From the Elephanta and Ellora caves in Maharashtra, India, to the Bayon in Angkor, Cambodia, each of the sculptures and structures featured in the book tells a story, with historical, architectural and spiritual elements, set in stone.
There is, of course, the human element as well—the unknown faces behind these works of art. Imagine artists, craftsmen and even monks, chiselling away at the rocks for days and months, softening its edges, giving it shape and form and leaving an indelible impression for posterity to figure out the past.
But the biggest takeaway for our generation is the environmental concern, subtly raised by the author. Long before sustainable living and green homes became a fad, Katakam says our ancestors were keen to live in harmony with their surroundings. The structures they created blended in with the landscape, with little or no harm done to it. Take, for instance, the Dalavanur cave in Tamil Nadu. Only a small part of the rock formation was touched by the designer of the cave temple. Close to the cave, two boulders form an arch, resembling two long lost souls, with their foreheads touching. The designer left this 'natural' entrance untouched, only cutting steps into the rock for easier access to the cave. Alas, this is one lesson we seem to have forgotten or ignored as we bulldoze and blow up our way to becoming a developed nation.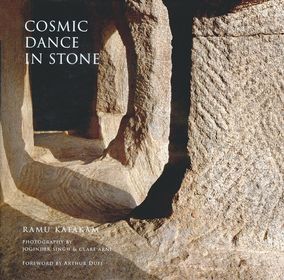 Visually stunning, thanks to the photographs by Joginder Singh (an architect by training who has earlier collaborated with the author for a book on Kerala architecture) and Clare Arni, the book enlightens the reader, just like the "illumination from the northern access of the Elephanta creates a balance of light and shade in the entrance area, allowing the eye to adjust to the darkness of the interiors".
The author has kept his introduction to each section and the picture captions crisp and concise, letting the photographs speak for themselves. So, though there is little to read, there is definitely a lot to learn here.
Cosmic Dance in Stone
By Ramu Katakam
Photographs by Joginder Singh and Clare Arni
Published by Niyogi Books
Price Rs 3,000; pages 228