In Dangerous Dispatches, Achala Moulik uses a technique which has been perfected by writers like Leo Tolstoy—blending the personal with the political. So, we have the story of an intrepid journalist called Shivan Khamboj and his wife Romona, an archaeologist, set against the major geopolitical events of the 20th century. Interwoven in the narrative are the stories of Shivan's friends Julian Ashford, Alexei Rumyanstev and Farid Brezhna. The story careens wildly as Shivan covers various important events unfolding in the world, like the Indian Emergency, the Soviet-Afghan war, the Cuban crisis and the Bosnian conflict.
Moulik, a graduate of economics and international relations from London University, was education secretary to the government of India and director general of the Archaeological Survey of India. She spent three years researching the book and two years writing it. Some of the characters are based on people she knew or had met at her parents' homes in London, Rome and New York; her father used to be a journalist.
Her grip on international affairs shines through in the pages of the book, occasionally a little too much. Characters are made to garble too much politics in order to convey information, which makes the dialogues slightly stilted. The novel begins with a group of young, impressionable students at the London School of Economics discussing the nuclear war that would lead to the end of the world if Nikita Krushchev did not dismantle Russian missiles in Cuba.
Fifty years later, when the Cold War between the US and Cuba has ended, the book draws to a close with the bittersweet strains of Rachmaninoff's Symphony no 1, which Shivan and Romona had listened to when he first took her out on a balmy evening in London. Everything seems to have come full circle, which lends an air of finality to the narrative. Although the story is plotted with some skill, one wishes Moulik had spent more time fleshing out her characters, instead of simply making them surfaces for bouncing off global events.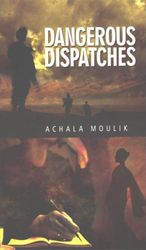 Dangerous Dispatches
By Achala Moulik
Published by National Book Trust
Price Rs 410; pages 379