Her characters don't have the same life blood or spirit as 'mockingbird' does.
The spoilers are out there. Jem is dead. Dill is missing. And the most heartbreaking Atticus Finch, is a bigot. But Go set a watchman is laced with this sense of heaviness, a twinge of unease at every page for another really basic reason: we were never meant to. It was, by all accounts, Harper Lee's less-than-perfect draft of a book that is everlasting.
This is no To kill a mockingbird. It will never be. Once you have got past that and stopped weighing every word comparing it to the original—dreading each moment anxiously for Atticus-as-we-know-and-love to disappoint—you catch glimpses of Lee's accomplishment as a writer. She's funny. She's observant. She's wise and she captures Scout the girl who returns as an outsider in her home with the same deftness and poignancy as she does when she writes about her coming of age. The coffee where she finds that she has nothing in common with the girls she grew up with. Her dance. Jem in love. And Uncle Jack.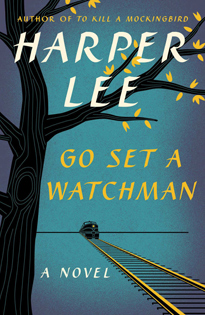 There is no doubt that the flashbacks of her childhood—vivid, warm and alive—is where Lee is at her best. And the editors asked her to concentrate on this.
Her characters don't have the same life blood or spirit as 'mockingbird' does. Atticus, finally, disappoints us because of the way he exists when she crafts him before rheumatism takes over. The one in this book is like a ghost. He is an idea. Not a man.
Yet the book, no masterpiece, has its moments. It is a book about growing up. Not coming of age as 'mockingbird'. It is the final step into adulthood when Scout must exist without Atticus. He must kill her to be independent. It is a moment that is heartbreaking when you see your parents as humans. And worse, as not perfect. It's the same with the book. Lee isn't perfect. She's vulnerable. And at the age of 90 something, spending years away from the limelight, it's a little unfair. Even when you read: "Hell is eternal apartness. What had she done that she must spend the rest of her years reaching out with yearning for them, making secret trips to long ago, making no journey to the present? I am their blood and home, I have dug this ground, this is my home. But I am not their blood, the ground doesn't care who digs it, I am a stranger at a cocktail party."
And you know she was meant to write, to be famous and ensure her characters live longer than her.
Go set a watchman
By Harper Lee
Publisher: William Heinemann (Penguin Random House UK)
Pages: 278
Price: Rs 799