Among many beliefs about the beginning of the universe is the mysterious Hiranyagarbha, literally the 'golden egg'. In the Rig Veda, there is a segment in praise of Hiranyagarbha Sukta, a single supreme creator, and the Upanishad mentions the golden egg floating in space. Hindu literature is littered with references to such mythological figures.
In the 18th century, Manaku painted these mythological stories for easy understanding. Manaku painted at least three "great series" of Ramayana, the Gita Govinda and the Bhagavata Purana. Three centuries on, art historian B.N. Goswamy has come up with a book titled Manaku of Guler to revive the art tradition of that century.
"For far too long we have lived with the idea that Indian art (read traditional art) is anonymous," said Goswamy, 84. "Nainsukh and Manaku were great artists but remained unidentified or, at most, a blip in our memory. The time has come to give them their proper place in the history of traditional Indian art."
Manaku, the elder brother of the celebrated painter Nainsukh, comes from the obscure little town of Guler in Himachal Pradesh. The book is about Manaku and his artistic journey. Every single accessible folio that has survived from the series painted by him finds a place in this book.
While contemporary art is being lapped up by art enthusiasts, traditional Indian art is finding fewer desi takers. "In India, art is divided state-wise, but what if one state has four different kinds of art?" said Goswamy. "Traditional art can flourish only when we start dividing art Gharana-wise (family-wise), like it is done in the case of classical music."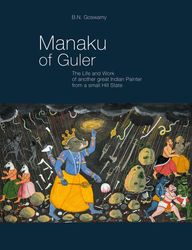 Manaku of Guler
By B.N. Goswamy
Published by Niyogi Books
Price Rs 4,000; pages 512