Khushwant Singh would have turned 100 this year; he died last spring. He wrote till the very end, even in those sunset years. To quote his daughter Mala Dayal, "But the one thing that never changed was his commitment to his work. He continued to wake up at 4.30am and got down to work. He continued to read, review books and write his columns till the end."
And what better tribute to this grand old man of literature than bringing out a volume on his writings. Portrait of a Serial Killer has Singh's essays on the innumerable characters of the subcontinent and far beyond, on different shades of life and everyday living—essays that connect and relay.
Take, for instance, this particular essay titled 'Lesson from Japan', where he talks about a train journey: "I got into a crowded third-class compartment of the train proceeding from Mysore to Bangalore. It was hot and there was nothing except coffee or tea to quench our thirst—and somehow a hot drink was not a particularly pleasing idea in that weather. At Srirangapatna, a sugarcane seller made a welcome appearance. All of us bought a long piece each. In half an hour, everyone had finished with the sugarcane and thrown out the husk—all except one, a Japanese gentleman sitting quietly in a corner…. I watched him examining the beauty of the colour on the outer surface of the sugarcane. He began carefully cutting the thick outer edge with a sharp knife and laying out the long flat strips on a towel. When this was over, he began chewing the contents—but with one difference. He stored the husk as well. Then he began working on the husk and the strips with the true skill of an artist.
'What are you doing with this waste matter? Why don't you throw it out ?' I asked at last when my patience ran out.
He smiled, 'It is raw material for something useful and beautiful.'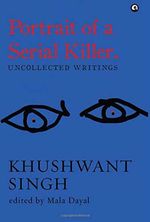 When the train reached Mandya, I saw him deeply absorbed fixing the soft sugarcane husk between the long flat pieces of the cane's bark, already cut into equal lengths. He pulled out a needle and thread from his pocket and started sewing the husk to the strips. Soon, the waste product began taking on a distinct shape—the shape of a fan. He got brushes and paints and painted the fan in gaudy colours. In few minutes, a lovely Japanese landscape had appeared on it.... The train came to a halt at Channapatna where I had to get down. I complimented the Japanese gentleman for using both time and skill for a worthwhile purpose and said goodbye. He smiled, bowed and gave me the fan." Thanks to such anecdotes, each essay stands out. And, none of them have been published in a book form before, making it worth a keep.
Portrait Of A Serial Killer:
Uncollected Writings:
Khushwant Singh
Edited by Mala Dayal
Published by Aleph
Pages 231; price Rs.499