Remember the effervescent Liril girl, the cute Rasna kid or the dapper Raymond man? These are images that remain alive in the minds of most Indians, even decades after they were first unleashed upon the collective Indian psyche by advertisers peddling their brands. Such is the staying power and recall value of some of these iconic advertisements that they take us back to the past in an instant. Who else but an ad veteran to tell us more about the evolution of the Indian advertisement industry and how that mirrors the transition of the Indian society.
In his book Nawabs, Nudes, Noodles, Ambi Parameswaran, an IIT and IIM graduate, who has spent 35 years in marketing, sales and advertisement, captures the transition of the Indian society over the last 50 years, reliving the story through some of the iconic advertisements. Take for instance, the evolution of the Santoor woman. "From being a pretty doll in a wedding admired by old ladies, she has gone on to learn aerobics, hula-hoop, play cricket, become a dress designer, fashion photographer, choreographer, television anchor and more," says Parameswaran. Or take the interesting fact that 65 per cent of women shown in advertisements in the 1980s and 90s were dressed in sari. This figure came down to less than 30 per cent by the end of the 2000s. The trend clearly depicts what has been happening in India, where women are steadily growing as equal members of society, feeling confident of their choices. It is reflected in the evolution of the advertisements. And, such change is happening across every sphere of Indian life.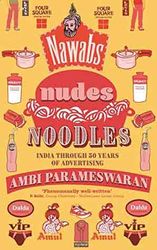 In 23 chapters under four broad sections—people, products, services and ad narratives—Parameswaran tells a compelling story, "providing a window to the changing consumer landscape for students of management, marketing, advertising, sociology and media studies." More importantly, this lucidly written volume, bolstered with ample anecdotes and back stories, could take general readers to the world of advertising.
Nawabs, Nudes, Noodles: India Through 50 Years of Advertising
By Ambi Parameswaran
Published by Macmillan
Pages 301; price Rs 599