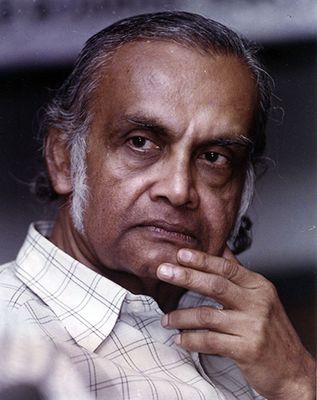 Reel love: P.K. Nair
P.K. Nair, perhaps the most famous film archivist of India, remembers visiting filmmaker Dadasaheb Phalke's son Prabhakar in Nashik to retrieve some reels of Phalke's films. Prabhakar showed him a wooden box containing stray reels and fragments from various Phalke films. Nair could see that the tins hadn't been opened for a long time. The lids were jammed and they had difficulty opening them. Nair decided that the films needed to be taken to Pune immediately. A ride was arranged on the newspaper taxi which used to ply daily between Nashik and Pune. The journey was hard and Nair was constantly looking back to make sure that the reels were safe. Every bump made his heart beat a little harder. "The transport of inflammable nitrate film was indeed risky," he writes, "but we had to go through with it to save the film."
Nair visited remote corners of the country to hunt for films scattered all around; many would turn up in odd places like cowsheds and godowns belonging to owners of grocery shops. Some of the reels were retrieved from foreign locations. His efforts resulted in the collection of 10 out of the 1,500 silent feature films made in the country between 1913 and 1932. But Nair wasn't just a film archivist; he was also a cinephile, a film historian, a columnist, a teacher and student of cinema. He was associated with the National Film Archive of India from 1965, a year after it was established, and was responsible for building a world-class film archive. A year after his death in 2016, his writings on cinema have been brought together in one volume, titled Yesterday's Films for Tomorrow, edited by Rajesh Devraj.
The essays in the book are so arranged that they chart Nair's growth from the moviegoer to the archivist to the film historian to the critic and columnist. In the first chapter, for example, he describes his first encounter with cinema. It was in the early 1940s, when he was hardly eight years old, at a tent cinema in Thiruvananthapuram's Putharikandam Maidan. Nearly half of the hall was filled with immaculate white sand. This was the lowest priced seating, classified as 'floor'. His first film was called Ananthasayanam—a folklore film about the legend behind the origins of Ananthapuri. "Squatting on shiny white sand and watching a legendary film about the birth of one's own birthplace along with other devotees of cinema—this is something I missed in all my film viewings later…," he writes.
In some parts, the essays read a bit too erudite. Nair doesn't give an elaborate introduction nor does he lead the reader gently into the subject. Rather, he nosedives into it. What, however, comes through in the book is the depth of his knowledge of cinema and how nothing escapes his notice. In one part, for example, he elaborates on the creative use of sound in V. Shantaram's Duniya Na Mane/Kunku. "Before entering the bride's village house, the old man stops for a moment at the entrance when he hears a distant voice. This turns out to be the call of a street vendor offering to recycle old vessels with aluminium coating. The voice is repeated later on, when he desperately tries to dye the grey hair in his moustache. The analogy is quite obvious." Now, how wonderful it would be to watch a movie the way Nair does, inhaling it with all your senses, living in its rich landscape of subtexts and analogies. It must be a little of what Alice experienced in her Wonderland.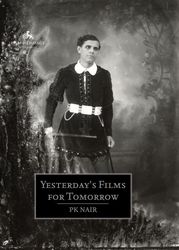 Yesterday's Films for Tomorrow
By P.K. Nair
Published by Film Heritage Foundation
Price Rs 400; pages 240