He nearly joined IBM before he opted for the Indian Space Research Organisation (ISRO). Toying with the two tempting offers soon after graduating as an engineer, K. Radhakrishnan consulted M.S. Narayanan Potti, his mentor at Thrissur's Government Engineering College. "You go to Thumba. They have plans to develop the Satellite Launch Vehicle. It would be wonderful for the country if they are able to do it," advised Potti. That was 1970. Forty-four years later, the once undecided young engineer evolved into ISRO chairman, and accomplished the feat of sending an Indian rover to Mars. Creditably, India reached Mars at first try, that too on a smaller budget than what Hollywood spent on making Gravity.
Radhakrishnan's memoirs are largely about his work, with a few transgressions into personal space—his love for dosa, his marriage and his devoutness.
The narrative is rather officious, completely devoid of literary frills. Yet, because of its starkness and largely because of its non-partisan stance, it creates realistic pictures of ISRO and its growth, both in scope and ambition.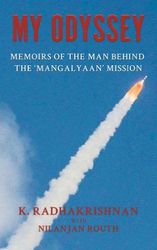 My Odyssey: Memoirs of the Man behind the Mangalyaan Mission
By K. Radhakrishnan and Nilanjan Routh
Published by Penguin Random House India
Price Rs 599; pages 303