It is difficult to write about violence. You need to balance the outer landscape of the physical—mangled bodies and bloodshed—with the inner one of the emotional—fear, loneliness and pain. Quraishi manages it admirably in her new book Meer.
The story begins when the family of the protagonist, Husna Hakeem, is hacked to death in Uttar Pradesh during the violence following the demolition of the Babri Masjid. Husna flees to Kashmir in search of a shawl seller. There she meets Meer, a man whose politics comes through more vividly than his personality. They become lovers and Husna gives birth to his child before she is forcibly separated from Meer and sent back to her hometown. Months later, Husna returns to a violence-torn Kashmir in search of Meer and her child.
Often, in Meer, it is the minor characters—like the half-widow Shagufta searching for her husband and the shawl seller who weaves stories around each of his shawls and whose sons are killed in the riots—that speak more to the reader. It is through them that the turmoil of the times is brought alive.
As one Kashmiri says, "The Pandits have gone. We are the ones that got left behind. We cannot go to your India and neither can we go the other way. The buses can ply from here to Muzaffarabad, but not our bodies."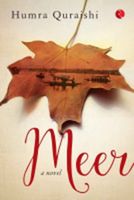 A character in Jhumpa Lahiri's The Namesake says that the best thing about books is that they let you travel without moving your feet. Perhaps that is what is most important about books like Meer. They let you travel, not just to places, but to people who, in the business of surviving, often forget to live.
Meer
By Humra Quraishi
Published by Rupa Publications
Price Rs.295; pages 162