When The New York Times announced the places to visit in 2016, the only Indian state to find a place in the list was Tamil Nadu. One of the reasons why the paper chose Tamil Nadu is Chettinad, a network of villages in the state's southern semi-arid hinterland—largely part of the present-day Sivaganga district—famous for its thousands of elegant mansions.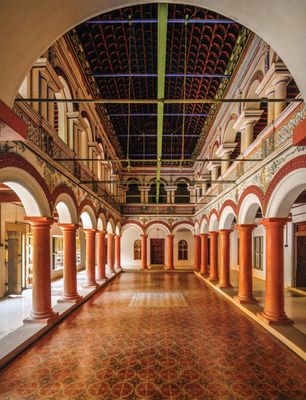 The great hall of a typical Chettinad mansion.
These magnificent mansions were constructed from the early 19th to the mid 20th century by the enterprising Nattukkottai Chettiars, a mercantile community of the Chola era vintage. By the beginning of the 19th century, the Chettiars had become fabulously rich, capitalising on the virtual monopoly they enjoyed in the trade of raw materials with Ceylon and southeast Asia. Even as they spent extended periods abroad on business, Chettinad remained close to their hearts and they chose to express their love for their homeland in the form of exquisite homes they built, "for the demonstration of new wealth and the preservation of longstanding social and ritual practices."
And, these were not just ordinary houses, but stately homes "with acres of roof tiles, castle-like towers, turrets and street-facing walls." In Mansions of Chettinad, an illustrated volume by renowned architectural historian George Michell, with pictures by Bharath Ramamrutham, one of India's leading architectural, landscape and travel photographers, these regal abodes come to life once again.
The book reveals how most of the mansions were built between 1900 and 1930 although the world at that time was going through a major financial crisis, accentuated by World War I and the Great Depression. But it turned out to be a boon for the Chettiars, who, by then, had established themselves as the preeminent moneylenders in southeast Asia. When their debtors defaulted, the Chettiars took possession of their properties. There was a time when "more than half the teak plantations and paddy rice land in Burma" were owned by the Chettiars.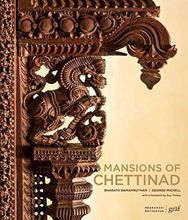 But the post-World War II era saw a different geopolitical and economic order, forcing the Chettiars to reorder their priorities and move to the more prosperous west. Subsequently, the mansions back home fell vacant. "No longer suited for modern living," they began to "crumble under the weight of long neglect." Mansions of Chettinad is a welcome attempt to capture the magic of the elegance of that bygone era and preserve it for posterity.
Mansions of Chettinad
Text: George Michell; photography: Bharath Ramamrutham
Published by: Meenakshi Meyyappan & Graf Media
Pages: 315