The action moves swiftly, and the themes of desertion, guilt and regret remain central to the novel.
Orhan Pamuk is back, doing what he does best—taking his readers through the winding and circuitous web of relationships. This time, he explores filial relationships in great detail in his latest novel The Red-Haired Woman.
Like the exquisite The Museum of Innocence, this novel, too, exhibits Pamuk's fascination with Turkey; both the westernised and Asian versions. The novel oscillates between Ongoren and Istanbul, though a lot of the action is set in the former. Pamuk's depiction of the passage of time is, simply put, outstanding. This beautiful story of an apprentice helping his master, a renowned well-digger, using traditional methods and with tools such as spades and pickaxes, will truly move readers. The apprentice soon studies engineering geology and becomes a leading entrepreneur, thereby employing workers who use noisy machines and mechanised drills that can bore up to 50 metres a day.
Pamuk's characters grapple with issues such as filicide and patricide, and though the central plot is gripping, the novel borrows heavily from ancient classics such as Rostam and Sohrab and Shirin and Farhad. The Red-Haired Woman is full of characters torn apart because of the machinations of their minds, stemming from absent fathers and how these "abandoned Sohrabs" grow up to lament the presence of "a strong decisive Father telling them what to do." However, it is not just ancient texts and characters that criss-cross with Nietzsche and Freud; tradition and modernity do so, too, as they merge seamlessly with cultural and social histories.
The novel gets a liberal sprinkling of Pamuk's favourite references—raki, cigarettes, kebabs and coffeehouses. And, of course, can an Orhan Pamuk novel really be complete without alluding to the beautiful Bosphorus?
The action moves swiftly, and the themes of desertion, guilt and regret remain central to the novel, despite innumerable clichés of barren land (infertility) and fertile land (water and wells), depicted through the politics of women's bodies. One may be reminded of D.H. Lawrence's Sons and Lovers, especially towards the end, which brings into focus the 'mother-son' relationship. The Red-Haired Woman is definitely a must-read for every woman and man of our times, especially if they're aching to take a trip down the 'L' lane to feel what 'love,' 'longing,' and 'loss' can be all about.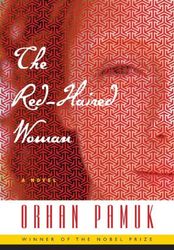 The Red-Haired Woman
By Orhan Pamuk
Published by Penguin/Hamish Hamilton
Pages 253
Price Rs 599