The name of the book says it all. The increasing importance of sports in the country has given rise to many legal issues like the sacking of top Indian cricketers in the 1980s for participating in a series in the US or the spot-fixing scandal in the Indian Premier League. The book is about Indian sports, its issues, stakeholders and the laws related to it.
Justice Mukul Mudgal, retired chief justice of the Punjab and Haryana High Court, has been associated with a lot of sports-related cases. Athletes and sports administrative bodies like the Board of Control for Cricket in India and the Delhi and District Cricket Association have sought his help for legal reprieve. The government has asked him to help draft the National Sports Development Bill and the Sporting Fraud Bill. The book chronicles the evolving sports landscape in India and comprehensively summarises every past, present and potential legal issue associated with Indian sports.
The book begins by charting out the evolution of sports in India from the time sporting achievements were few and far between and the primary legal issue associated with sports was injustice to athletes. Since then, increasing commercialisation and rising stakes have made sports-related issues like labour, contract and competition laws more complex. With commercial leagues entering various sports like cricket, kabaddi and badminton, contract law, broadcasting rights and sponsorship contracts, too, have become important legal issues.
The book describes the multiple aspects of Indian sports like governance, autonomy and regulation. Some anomalies within Indian sports like the coexistence of amateur and semi-professional sports and the nonexistence of players' rights need to be addressed. Mudgal is also very critical of the anti-doping movement in India. He rightly questions the efficiency of the National Anti Doping Agency and reiterates how sports bodies are "helpless" against drug suppliers and non-athletic transgressors.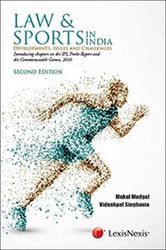 Match-fixing and betting have been the most glaring "crime" that has tainted sports, especially cricket. Mudgal, in his report, had recommended that legalising betting was important to curb the menace. The book clearly defines sports betting and differentiates it from gambling. It even details the structure and formation of the proposed online gambling commission. Lastly, the book touches upon one of the most vital aspects of sports in India—reporting. Mudgal discusses the rights and responsibilities of sports-related news media.
Law and Sports in India—Development Issues and Challenges
By Justice Mukul Mudgal with Vidushpat Singhania
Published by LexisNexis
Price Rs 1,295; pages 1,222