In these times of internet and television when a child has uncontrolled exposure to a multitude of influences, not all healthy, parenting has become a challenge like never before. No wonder then, many parents hire coaches, child counsellors and enroll in parenting classes to tackle various issues relating to their child. They feel the need to learn the intricacies of parenting irrespective of whether their child is a toddler or a teenager.
One of the most difficult aspects of modern parenting is to instil in a child values like compassion, honesty, humility and, at the same time, make the child strong enough to face a world full of pitfalls.
But, unfortunately, parents of today do everything but spend time with the child. Dr Anupam Sibal, paediatrician and group director of Apollo Hospitals, in his book makes the point that spending quality time with your child is key to solving many complex parenting issues. Communicating with your child on a regular basis, he argues, is the most important aspect of good parenting.
All one has to do is give a child the right examples at the right time. Sibal also points out the extraordinary qualities every child has.
Sibal draws from his own experience of dealing with his son at different occasions—with examples of how leaders in different fields respond to different situations to simplify complex life-issues to him.
Sibal's book is full of interesting anecdotes and will help equip parents with appropriate and convincing examples to deal with a child. For example, to explain the importance of accepting one's mistakes, Sibal writes about what Thomas Alva Edison told a journalist after he discovered the bulb. 'I have not failed 999 times. I have simply found 999 ways how not to create a light bulb.'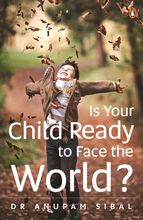 Similarly, to convey to his son, Devang, the importance of taking risks to excel in life, Sibal tells him about Marc Zuckerberg and how he dropped out of Harvard to start his own venture.
The book indeed makes for an inspiring read for all those looking for practical parenting guidance.
Is Your Child Ready To Face The World?
By Dr Anupam Sibal
Published by Penguin Books
Price Rs 250 Pages 162