Dear Mrs Gandhi,
The one question which every Indian citizen would like to ask you is, why did you impose the Emergency?
Dear Mrs Gandhi,
When you finally decided to call for elections after twenty-one months of the Emergency, had you been troubled by guilt?
These are routine questions journalist-author Sagarika Ghose asks in letters to "Dear Mrs Gandhi" in her book, Indira: India's Most Powerful Prime Minister. There are also personal ones, like:
Dear Mrs Gandhi,
What did being born a Nehru mean to you?
Dear Mrs Gandhi,
Your marriage to Feroze was not a success.... What went wrong between you and Feroze?
And some really provocative ones:
Dear Mrs Gandhi,
If you had not been assassinated, would you have declared a second Emergency and again postponed the general elections of 1985?
Dear Mrs Gandhi,
Is the quest to find the 'real' Indira Gandhi futile?
The last question reflects Ghose's misgivings of her own quest in Gandhi's birth centennial year.
Over 30 years since her assassination, framed photographs of Indira Gandhi continue to adorn walls of prisons in Bollywood movies. People in their 30s know her as a powerful prime minister who suspended the Constitution, threw opposition leaders in jail and restricted freedom of the press. Even fifth graders today know that she liberated Bangladesh, ordered battle tanks into the Golden Temple and was assassinated for it by her own security. They also know her as the daughter of Jawaharlal Nehru. She was a stunning woman who wore Sanganer-printed cotton saris, and exquisite Kanjeevarams when meeting foreign dignitaries, a lover of the arts, and mother of Rajiv and Sanjay Gandhi.
But is that all there was to her that the Gen-Now needs to know? And, what about what went into making her the person she was? According to Ghose, this centenary is "an opportune moment to unravel the many layers that defined the former prime minister's personality and create a portrait of her in the context of present-day politics". But, as she confesses, Ghose was seeking to answer questions about Indira Gandhi that have confronted Indians born in the 70s and thereafter; questions like whether India would have been different but for Indira's two decades.
And so, Ghose raises questions in open letters to her. She has them answered by bringing in voices, views, explanations, writings, and even gupshup-gossip of people who have the locus standi to figure in the book. It is this kind of journalistic approach that makes the book a racy read, with lots of anecdotes and comments that older readers may be familiar with, and fresh views from people like Natwar Singh. Ghose also draws references from other books.
The last letter in the book asks:
Dear Mrs Gandhi,
Why these letters?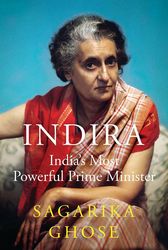 The book takes an innovative approach, with an almost 360-degree view of India's best known politician, who, as Ghose and many of us suspect, is someone Prime Minister Narendra Modi tries to emulate in parts.
INDIRA: India's Most Powerful Prime Minister
By Sagarika Ghose
Published by Juggernaut Books
Pages 342
Price Rs 699