India's Wars: A Military History, 1947-1971 begins by pointing out that neglect of military history as a field of study in India has resulted in a general lack of awareness about the role played by the Indian armed forces in the building of the modern Indian nation state. The author, Arjun Subramaniam, seeks to correct this by providing an easily readable account of India's contemporary military history.
At its core, the book deals with the turbulent period from 1947 to 1971 when India fought four wars. It also looks at the various historical influences, from the Marathas and the Sikhs to the British, that shaped the capabilities and ethos of the Indian armed forces, and provides a quick history of the country's Army, the Navy and the Air Force.
The author says there has been a tentativeness about the use of military as an instrument of overall state strategy in independent India and that the defence forces have been used sub-optimally in pursuing the country's strategic goals.
The book provides a good assessment of the various strategic and tactical approaches of the Indian forces as well as a comprehensive list of the acts of bravery and the key leaders involved in various battles. Commendably, Subramaniam has stuck to a "joint perspective" where the role of each of the three arms of the armed forces is examined in a balanced manner. The style of narration is matter-of-fact and objective.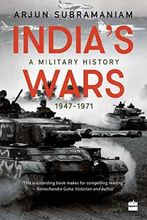 The book has many interesting anecdotes, one of them about students of IIT Kharagpur watching a dog fight between the Indian and Pakistani fighter planes during the 1965 war. Another story is about how a small Italian town, Taranto, welcomed the members of an Indian ship.
India's Wars: A Military History, 1947-1971
By Air Vice Marshal Arjun Subramaniam
Published by Harper Collins
Price Rs 799; pages 562