At a time when cinema in India is largely defined by the terms 'Bollywood', 'box office' and 'star power', film activist-writer V.K. Cherian's book takes one back in time when cinema was associated with 'culture', 'art form' and 'nation building'. A time when prime minister Jawaharlal Nehru, who looked at cinema as a medium of public influence, spoke encouragingly of the new republic's cinematic future at several forums.
While Cherian's attempt has been to comprehensively map the seven-decade-long journey, beginning from the Indian independence movement, he has pegged the book as an ode to Satyajit Ray's iconic film, Pather Panchali, which came out in 1955 and placed India on the global cinematic map. It made it to the list of 50 great films of all time.
Cherian worked with filmmaker Adoor Gopalakrishnan's Chitralekha Film Society from 1976 to 1980 and has been active as a film society member. In his book, Cherian looks at the country's cinematic journey through the advent of the film society movement. He starts by defining 'film club' and 'film society' and contextualising the movement in India with its international counterparts. The first-ever film club was started in Paris between the two world wars, and in India, it came into existence in Bombay in 1940 with nine members and a half-yearly membership of Rs 12.
The book also looks at writer Marie Seton, who wrote biographies of Russian filmmaker Sergei Eisenstein, Nehru and Ray, and was excited to be part of the 'young nation's efforts to build a new film culture'. It also talks about the origin of film societies in Bengaluru and Chennai, the role government played, shifting to the digital age and the policies that made an impact.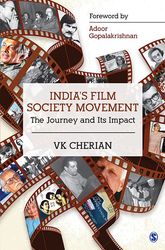 Presented in a simple and academic layout, the book has valuable information for anyone interested in the history of the film society movement.
India's Film Society Movement:
The Journey and its Impact
By V.K. Cherian
Published by Sage Publishing
Price Rs 895; pages: 219