Tavleen Singh, columnist and author, is not the first one to lament endlessly on how and why India has failed its citizens, be it in key sectors like health and education or bare necessities like food, clothing, housing or even toilets. And she is not the first one to blame the Congress, which ruled the country for most of the time after independence. But her anger somehow seems to be targeted more at the Nehru-Gandhi dynasty, particularly Sonia Gandhi.
Nothing much in the book is new, and being a widely read columnist, Singh's personal views are all too well known. The book is full of them.
But what is refreshing is the sensitivity with which she uses the lives of the pavement community as points of reference of the contemporary society to tell the story of the people betrayed by the political system. She covers the hopes and dreams of the Indian electorate in the summer of 2014, a time when finance minister P. Chidambaram conceded that the government had failed to notice that India had changed from "a petitioner society to an aspirational society". Narendra Modi realised it and made common cause with those aspirations and swept to power ultimately.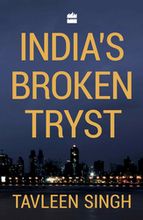 Though everyone knew that the flawed political system had left Indians poor, illiterate and jobless, there was a fear that someone like Modi as prime minister would destroy "the idea of India". The author, like many Modi supporters, says it will take time for Modi's programmes to bear fruit. She cautions the prime minister against falling into the RSS trap in which case he would fail to bring about the parivartan he promised.
In a nutshell, one more anti-Congress, pro-Modi book.
India's Broken Tryst
By Tavleen Singh
Published by Harper Collins
Price Rs 699; pages 415