The March 1977 Lok Sabha election that de facto ended the Emergency regime, it is widely believed, was at the instance of the Intelligence Bureau. The IB had told prime minister Indira Gandhi that the ground situation was favourable for her democratic return to power. And she had gone along with the intelligence input.
Wrong, says T.V. Rajeswar., former director of the IB. Six months into the Emergency, he says, the IB recommended calling it off in January 1976, and holding elections in March the same year. It took a year to happen, because "most people, including Mrs Gandhi, were so happy and content with the Emergency's aftermath that they were not prepared to consider any such recommendation". And, he lists top bureaucrats in the home ministry and the PM's secretariat and some sycophants in the Congress as being opposed to the idea.
Rajeswar was awarded the President's Police Medal for Distinguished Service in the Republic Day honours list of 1977. He received the medal in May 1978 from prime minister Morarji Desai. Rajeswar was happy to receive it, but relieved that nobody in the Janata Party regime had seen the citation. For it specifically referred to Rajeswar's leadership and direction in apprehending George Fernandes, among other things.
This is a small personal bit that Rajeswar—who after a long innings in the IB became director, and later the governor of four states—mentions in his book, India, The Crucial Years. The first IPS officer to be appointed to a Constitutional post, Rajeswar has seen much of India's political-strategic-bureaucratic canvas from close quarters for 60 years. Time and proximity gave him ample scope to tell more than what is widely known. But Rajeswar's book is what he saw and experienced and his views on people and events, told in a very sanitised way. It gives the impression of more withheld than penned.
In the 40th year of the Emergency, when the RSS-mentored BJP is working full-time to realise their dream of a "Congress-mukt Bharat", Rajeswar writes that the RSS had "conveyed its support to the Congress in the post-Emergency elections". The RSS was so happy with the forced family planning drive—as it affected Muslims—that its chief, Balasaheb Deoras, wanted to meet Indira and Sanjay Gandhi. But Indira preferred to keep them at an arm's length, as she did not want to be seen as an RSS sympathiser.
A little-known thing on the Khalistan movement in Punjab was Rajeswar's own suggestion in May 1982: the state should have an Akali-Congress coalition government in the interest of lasting peace. Later, when he called up his sources in the Akali Dal, they favoured a dialogue, and chief ministership to an Akali leader. But the Gandhis—Indira and Rajiv—wanted to negotiate with Jarnail Singh Bhindranwale. Rajeswar writes: "I had long sessions with P.C. Alexander [principal secretary to the PM] and Krishnaswamy Rao [cabinet secretary]... on various matters, but the prime topic was Punjab. I found Alexander tired and weak, and he said he was suffering from lack of sleep. Both had come to the conclusion that there was no hope of restoring a semblance of order in Punjab except by paramilitary or military forces entering the Golden Temple, where the insurgents had taken up sanctuary." It is foreboding, the thought that the Akalis will have their way or no way. More so when the Akalis are facing anti-incumbency, with elections not too far away.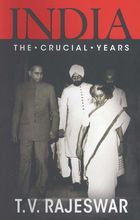 Also, there are fine observations of certain IB directors over the years. For instance, India's first IB director, T.G. Sanjeevi Pillai, fell in love with a married woman, whose husband held a junior post. He remained a bachelor till she was widowed. He later married her and took charge of her family. The next one, B.N. Mullick, was referred to as "God" by junior officers, and turned to godmen after retirement.
India, The Crucial Years
By T.V. Rajeswar
Published by HarperCollins India
Price Rs.599; pages 283