Shiva loves playing marbles with his sister Saraswati. But, after she got married, he rarely gets to play with her. Not that the marriage lasted; after a prolonged attack of cholera, her husband, thrice her age, dies. On the day of the funeral, while the siblings are playing marbles, their father summons Saraswati inside and their mother lays out a red-and-gold sari for her to wear and applies makeup on her face. Shiva is sent to a neighbouring village. A conch shell sounds, indicating that it is time for the funeral; time for Saraswati to commit sati. When some men lift her and place her on the pyre, she screams at the top of her lungs. The men attempt to place her husband's head on her tiny lap and the head priest lights the fire. And that's when the miracle happens…
A Game of Marbles is the first story in Batra's anthology of short stories. As the poet-critic Matthew Arnold said, journalism is literature in a hurry. Perhaps one could say of the short story that it is literature in a capsule. Imagine your mother carefully measuring out a spoonful of cough syrup from a bottle and treating that infernal cough of yours with it. You know there is a lot more in that bottle but what is on the spoon is enough. Anything more is unnecessary and anything less will be insufficient. A short story is like that—a measured segment of a much larger whole.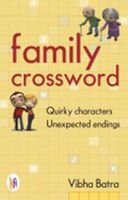 Each of Batra's stories is a single snapshot of life which has no beginning or end. Batra takes a particular theme—old age, debt, friendship or insecurity—and imbues it with life, colonising the stories with endearing characters and surprise endings. However, the lives of the people in her stories are so abbreviated that one wishes she would fatten them up a little; address the question of who they are before telling us what happened to them. But perhaps, it is better this way, leaving the readers to pedal a little harder on the footpath of their imagination.
Family Crossword
By Vibha Batra
Published by LIFI Publications
Price Rs 200; pages 184