Taslima Nasrin's story of exile is well known. But, behind the controversies, and the the politics surrounding her departure from Bengal, is a deep loneliness. Exile explores this story. Nasrin's side of the tale is often ignored because of her statements. Exile shows the vulnerability of living in a country where she might be protected, but is not always welcome.
She brings alive the despair of being locked up for days, and the sheer enormity of being unwanted in a country that is closest to home. Evocative, moving, honest and often censorious of several well-known figures, the book is a glimpse into the claustrophobic world Nasrin lived in.
"This exile, it has torn me up, like a rabid animal digging its talons deep into its prey. My house, my cat, my books, my friends, and my life—I have had to trade all of this and more, in exchange for months spent in uncertainty in an unknown dark, musty, old house,'' she writes. The interactions with her captors—as she continuously refers to them—are surreal. Sample a conversation between her and police commissioner of Kolkata, Prasun Mukherjee:
Mukherjee: I suggest you go away for a while.
Nasrin: What do you mean?
PM: I mean you have to leave Kolkata, at least for a few days.
TN: Where do I go?
PM: Go to Europe.
TN: Europe? But it's not as if I have a house there somewhere!
PM: Then make some arrangements.
The conversation goes on, with him suggesting that she go to the US or anywhere else in India. The hounding continues and her landlady hikes the rent till Nasrin is unceremoniously flown out of Kolkata. The book makes for disturbing reading. As does her stint in the safe house, where she is not even allowed a doctor. Finally, she had to leave India with a one-way ticket to Stockholm.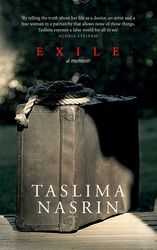 The book is about survival. And, Nasrin is a survivor. Back in India now, she writes in the preface to the book, "Freedom of speech is the freedom to say something you might not want to hear." And, this is a story—one that India clings to as a badge of honour—with a darker side to it.
Exile: A Memoir
By Taslima Nasrin
Published by Penguin Books India,
Price Rs 599; Pages 342