Move over, fad diets; it is now all about holistic diet and eating according to one's body type and metabolism, says health columnist and nutritionist Kavita Devgan in her latest book. Since weight loss requires small but persistent changes, Devgan presents some 40 habits of 'thin' people that can be inculcate in one's daily routine for long-term benefits.
The first half of the book focuses on the right diet habits like starting your day with breakfast, snacking guilt free and eating slowly. The second half is about the monthly and daily changes you need to make in the next three months—from drinking warm water and lemon first thing in the morning to including more greens in your diet.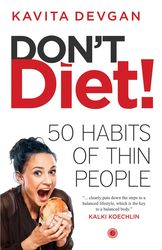 Though there is very little new information in the book, the short chapters on habits act as a reminder that good health has more to do with what we do daily than with those extreme periods of deprivation and bingeing. What I found useful were the easy-to-follow lists, like the ten-minute workout list and the list of below 100-calorie snacks. The 50 recipes give new ideas to make healthy food interesting like oil-free biryani and beet cake.
Don't Diet! 50 Habits of Thin People
By Kavita Devgan
Published by Jaico
Price Rs 350; pages 243