Though tiny at a little over 5ft, Bhikhu Parekh towers with his views on the 'other'. A report he wrote—named Multi-Ethnic Britain in 2000, or simply called the Parekh report—painted a less rosy picture of the country and its attitude to absorb, and was met with vitriol. He took a public stance defending Salman Rushdie, which was met with hostility. So did his views on Gandhi's sexuality.
A Labour life peer, Parekh is genial, gentle, enthusiastic and always professorial—jumping from Ambedkar to Gandhi and Panditji. His latest book, Debating India: Essays on Indian Political Discourse, is a collection he has written over 20 years evaluating Indian traditions of debate on history, philosophy and culture. He argues that India may be the largest democracy, but it has failed to become a republic. "Republic meant like the French republic. It simply doesn't mean that the head of the state is elected. Republic for us means a country that is devoted to social and economic equality. In other words, for us republic meant a whole new vision for India. An India in which all are equal, which we have still not been able to achieve. In a democracy you can give everyone a right to vote. But a republic has to be fought for inch by inch by inch."
For Parekh it is both personal and political. His father was a goldsmith who was barely educated, while Parekh studied in Bombay University. The questions he poses in some of the essays are as much an assessment of India as a plea to return to a vision. "My argument is that we should be really looking at ourselves to see whether we have been able to live up to the vision of India's makers and asking ourselves we might be the largest democracy. But are we the smartest republic? I think by those standards we come out rather poorly. Because if I take four standards of a republic—social equality, we are still waiting; economic equality, we are still waiting; state as a public institution, everything is used for public purposes and not private. Never. If a minister goes out, the whole road blocked. And, finally, that there is no poverty." India, he believes, must move from a representative government to a representative democracy.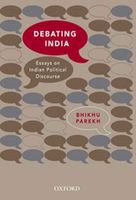 Debating India: Essays on Indian Political Discourse
By Bhikhu Parekh
Published by Oxford University Press
Pages 432
Price Rs1,640