Ten years. That was the time Osama bin Laden managed to stay alive after his foot soldiers brought down the twin towers of the World Trade Centre in New York. The Americans were shaken to the core after the attack on September 11, 2001 claimed nearly 3,000 lives. Across two presidencies and against infinite odds, the US kept up the pursuit of the mastermind of the 9/11 attacks until Navy SEALs shot him dead on May 1, 2011, at a 'safe house' in Abbottabad, Pakistan. In their book, The Exile, investigative journalists Cathy Scott-Clark and Adrian Levy tell how bin Laden spent the last decade of his life, running for his life.
The Exile is not a story told from the western perspective. Usually, such narratives unfold through the experiences of former intelligence agents, government officials and journalists from the west. Scott-Clark and Levy tell their story through the eyes of the other—bin Laden's wives, children, his close associates and his inner circle. In meticulous detail, the duo lists his struggle to stay alive and relevant, and spread his reign of terror.
Interesting details, unknown hitherto, pepper the narrative. For instance, the book tells how the attack on Indian Parliament on December 13, 2001 by Jaish-e-Mohammad terrorists would have been a ruse to provoke India and Pakistan into a confrontation, easing Pakistani pressure on bin Laden and providing him an opening to escape from the Tora Bora cave complex.
Occasionally, the book paints a different portrait of bin Laden. It narrates, for instance, how he allowed his first wife, Najwa, a Syrian who grew up in the seaside resort of Latakia where women wore bikinis, to walk away from his camp in Khost, Afghanistan, just two days before the 9/11 attacks. '"Osama, can I go to Syria?"' she asked.... Osama's face fell. "Are you sure, Najwa?" he asked, incredulous. "Yes," she said falteringly. "I need to go." They had made their final farewells on the morning of September 9. "I will never divorce you, Najwa," he told her earnestly...." Najwa slid a ring from her finger and pressed it into his hand.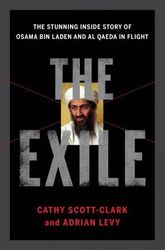 Written like fiction, this book of facts is a compelling read.
The Exile: The Stunning
Inside Story of Osama bin
Laden and Al Qaeda in Flight
By Cathy Scott-Clark and
Adrian Levy
Published by Bloomsbury
Price Rs 699; pages 619