Meghnad Desai wears several hats. He is a Labour politician and member of the House of Lords who takes an avid, if not greater, interest in Indian politics. From penning a biography on film legend Dilip Kumar to writing novels, Desai's interests are myriad. But it is his calibre as economist and stature as emeritus professor of economics at the London School of Economics that has led him to provide fascinating theories to explain globalisation, revival of socialism et al.
In his latest book, Desai aims to unravel the reasons why economists have never been able to forecast a financial crisis. Most of the book is a historical account of various economists and booms and busts that have characterised world economies. From Adam Smith and John Locke to Karl Marx and John Maynard Keynes, Desai's book serves as a ready reference for any economy student as he meticulously chronicles economic history in a bid to explain the financial crisis of 2008. Desai's easy style of narration is riveting and his stimulating anecdotes and trivia make the book an interesting read for people who are intimidated by economic jargon.
Desai writes that for most part of the last 200 years it was lack of government intervention that ensured stable economies. But after the Wall Street Crash of 1929, the Keynesian theory of state role in ensuring economic equilibrium gained credence. This view remained successful till the crisis of 1970s when the Keynesian theory fell flat on its face for failing to fight stagflation. It also marked the return of the old classical theory, but this time it was revamped, improved and, decidedly, pro-market.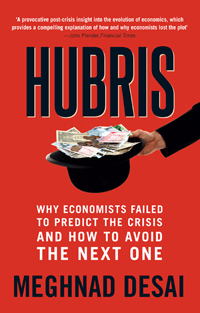 For a while it seemed that the good times would last forever. And it was this "hubris" or excessive pride that eventually engulfed the world in a false sense of security. When the 2008 financial crisis struck and global economies came tumbling down, economists were caught by surprise. Only current Reserve Bank of India Governor Raghuram Rajan had alerted about the crisis in 2005 but had been rejected as a "luddite".
It is the last part of the book that moves away from the retrospective eye and looks forward towards the future. Desai is pessimistic about the developed economies for the next 20-25 years. He says that they are in the midst of a downward phase replete with fears of stagflation and low growth. But there is some positive news for India. While Desai mentions India only in passing, he is bullish on emerging economies such as ours.
"India has slowdown in growth but is expected to bounce back to its previous rate of around 7-8 per cent and may grow even faster if it uses its demographic dividend," Desai writes in his book. Desai argues that capitalism works through the creation of cycles and crisis or more simply, booms and bust; a period of growth and upswing followed by a downward phase.
"The death of capitalism has been foretold many times and yet it lives on. That perhaps may be the only certainty that we can rely on," Desai concludes.
Hubris: Why economists failed to predict the next crisis and how to avoid the next one
By Meghnad Desai
Publisher: HarperCollins
Pages: 287
Price: Rs 399