A dismembered leg, a brooding detective and a psychopath out to ruin Cormoran Strike—Career of Evil has everything you would want in a crime novel. And, more. It is lush with detail, vividly imagined and incredibly satisfying.
The third Cormoran Strike novel reinforces, if there was ever a doubt, that Rowling is a born storyteller. The mystery isn't important—till halfway through the book the story barely moves. But, it is the characters and their journey that keeps you glued. There is a continuation of the darker side of Rowling's imagination, where unspeakable brutal acts can happen. If she conjured up a blood-chilling murder in The Silkworm, her latest book is equally macabre. The bad guys and the suspects in Career of Evil are twisted, dangerous misogynists. The violence in her books has escalated.
This time the motive is personal. And, the answer lies in Cormoran's past. The back stories are beautifully fleshed out, especially the one about Cormoran's mother and her death. In going back, she moves forward with the readers, who, in the process, get to know her protagonists better. Robin evolves, too. Always spunky and likeable, she reveals to Cormoran, at a weak moment, the real reason why she did not graduate. This delicious element of the Cormoran Strike novels, his relationship with Robin, gets wonderfully complicated. And, the will-they or won't-they question looms large on every page as Robin's relationship with Mathew is far from perfect.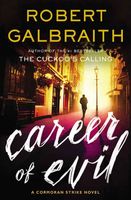 Rowling has the rare gift of a writer who can tell you any story and it will be entertaining, engaging, witty and absorbing. She does so again. Cormoran is the perfect detective—brooding, broken, bitter and British. Go buy it. It will transport you to a world that is so compelling that, somehow, reality pales.
Career of Evil
By Robert Galbraith
Published by Sphere Hachette India
Price Rs.699
Pages 512