This is the time for the luxury industry to turn its 'universe of conspicuous consumption into one of intelligent demand'.
In an age where one man's caviar is another's packet of chips and 'luxury' acquires a new meaning every day, Misha Pinkhasov and Rachna Joshi Nair have dared not just to explore the meaning and evolution of luxury over centuries but also presented a detailed analysis of the global luxury market and the economic, sociological and psychological challenges to its growth and sustainability in Real Luxury.
Nair has worked in the luxury, apparel and hospitality industries for more than 20 years, and Pinkhasov is an international communication adviser and writer who has covered culture, luxury and socially responsible business for consumer and trade magazines in the US, the UK, France and Russia. They assert that real luxury is about innovation, change and leadership.
There was a time when luxury was all about skilled craftsmanship, heritage and exclusivity. The World Wars and industrialisation changed it all; luxury moved beyond the royal patronage and rare crafts to consumerism and celebrity endorsements. Today, it is the celebrity perception that sets the cash registers ringing at luxury stores. As the authors rightly point out, there is an assumption that a celebrity owns and flaunts the best products across categories. So, when a consumer makes a purchase decision, he uses a celebrity for a reference point to compensate for his own lack of knowledge. Glamour and celebrity endorsement worked well till the turn of this century, but these tools are not enough to entice a wiser, more demanding consumer who can see through the conventional marketing exercises used by most luxury brands.
So, the authors say this is the time for the luxury industry to turn its 'universe of conspicuous consumption into one of intelligent demand'. The key challenge here is to have a more balanced attitude towards profitability. The global luxury market, these analysts say, is all set for a renaissance, where the brands will inspire and lead a sustained growth through the highest standards of design, production and communication. The absolute way to success is to not just create valuable products but also to be an agent of change. Luxury in today's age has to be inspirational for future generations and create newer references.
Peppered with incredible anecdotes on various civilisations and what signified luxury in that age and time, this book is a treat for history buffs. It gives interesting nuggets of information about the ancient Greeks who defined luxury as a leisurely pace of life to the Spartans who renounced luxury for a warlike state and Queen Marie Antoi-nette who made watchmaker Abraham-Louis Breguet famous among the French nobility.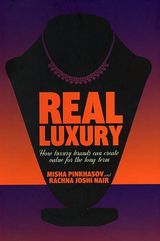 Real Luxury is an extensively researched, informative and authoritative tome on the global luxury market, which promises to be as fascinating for brand professionals and management students as for the connoisseurs of all good things in life. Simple yet engaging, the book is not a "how to" guide for luxury brands to achieve targets but a "why" guide, advocating brands to look within and find their own reasons to achieve a certain goal.
Real Luxury: How Luxury Brands Can Create Value For The Long Term
By Misha Pinkhasov and Rachna Joshi Nair
Published by Palgrave Macmillan
Price Rs2,277; pages 228.