A soldier mounted on a camel makes for a fascinating sight every time we see him in real and reel life. But did we know that the camel can also act as a good battle cover when he lies down on its side on the ground? Such interesting facts about camels, horses and dogs, who guard our borders along with the soldiers, form part of Amazing Camelry, Cavalry and Canines of the Border Security Force.
On March 2, 1976, five Pakistani dacoits riding camels sneaked in and looted a Jodhpur village, writes retired IPS officer Dr S. Krishnamurthy. The BSF camel contingent was dispatched to cover the border outposts to prevent the dacoits from fleeing. The camels gave the company commander the first signals of the approaching dacoits by showing uneasiness. ".... constable Mool Singh took cover and support of his camel (which had been made to take a lying position) and shot and killed one dreaded dacoit. In the end the BSF team recovered six camels with looted property estimated as worth 029,302 (value as on that day)," he recounts.
Through this book, the reader can gain insight into how humans and animals have bonded together for years to guard our frontiers.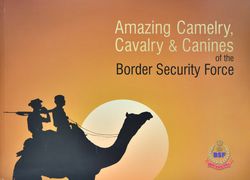 Amazing Camelry, Cavalry and Canines of the Border Security Force
By Dr S. Krishnamurthy
Published by RR Publishers
Price Rs 2,000; pages 96