A Bureaucrat Fights Back is an interesting read on how a retired civil servant saves himself from denunciation by unscrupulous ministers and a hand-in-glove CBI.
The author of the book, former TRAI chairman Pradip Baijal, has held important posts in the ministries of telecom, power and disinvestment. He has a story to tell on each one of these.
Baijal's telecom stint brought him into media limelight and gave him negative publicity grossly uncalled for. He has not just made the book a personal account of his fight with the system but has narrated the tale of reforms in India, as seen through his eyes. Baijal was part of some of the key reform initiatives, which include the uniform access licence rules in telecom and privatisation of Hindustan Zinc and Balco.
His pain is understandable when he says that allegations took a tremendous toll on his financial and mental health. "Perhaps, I had not understood the power of money on human affairs," said Baijal.
Like other books from bureaucrats, this one, too, spills the beans on the functioning of ministers and how the CBI was being controlled by the government of the day. Baijal's problems start with Dayanidhi Maran, who, in fact, threatened him.
Baijal joined the IAS in 1966 and was interested in getting challenging assignments. He got a glimpse of the tribal life and the Naxal movement during his stint in Dantewada, Bastar and Betul.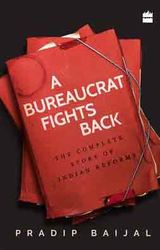 The chapter on his early years in these areas is peppered with interesting anecdotes. Baijal, once, had the privilege of welcoming Sanjay and Maneka Gandhi in Bastar for a rally. The plane got lost for some time before landing at Jagdalpur, increasing the anxiety of the officers.
The book is a warning for potential reformers.
A Bureaucrat Fights Back: The Complete Story of Indian Reforms
By Pradip Baijal
Published by Harper Collins
Price Rs 499; pages 336