FEW BOOKs start with the perfect first line, the kind that grips you and propels you into the book. The Firebird has one of those beautifully crafted first lines that arrives with force: "Disaster came early in Ori's life, at the age of five, the first time he saw his mother die."
His mother is an actress. Each night she dresses up and goes out. For Ori all these parts are real. The only role he wants her to play is that of his mother. Yet, that is the only role in which she fails. The audience is the neighbourhood, his family and himself.
The Firebird is about family, scandal, disapproval and a ten-year-old caught up in a world where love isn't simple. It is also a coming of age book. And, like all such books, it is heartbreaking.
Ori's world has his Mummum, his grandmother, with her long white hair that he plaits each night; the stories she conjures up―"stories that need no paper or libraries, stories that floated in the air through time''; his cousin Shruti, who he adores; Abir, the boyfriend he hates; and his father, who everyone else loves and is the life of all parties but spends evenings drunk as his wife comes alive on stage in a playhouse elsewhere in the city. Then, there is his aunt Rupa, practical, efficient and, for all purposes, his mother. Ori is the boy everyone talks about in the neighbourhood and feels sorry for.
Set in the 1980s in Calcutta when the Party was still vibrant and controlled even the family, the book chronicles the slow decay of theatre houses. There is the peeling paint, the dismal surroundings―the poor paras [neighbourhoods] in Calcutta. This is contrasted with his grandmother's fading world and his parents' marriage falling apart and then there is the story he spun about his mother that goes out of control. It is haunting, delicate and heartbreaking.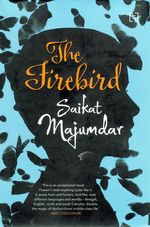 Majumdar conjures up the story in minute details―the sugary fizzy Colas, the spicy Hakka noodles, the women on the streets and a boy lost in this world trying to get his mother's attention and failing. He also brings out the jealousy and rage of a young boy who grows to hate what his mother does, and wants to destroy it. The book is dark, evocative, depressing and beautifully written.
The Firebird
By Saikat Majumdar
Published by Hachette India
Pages 233; price Rs499