When you see yet another book on tigers, the first reaction is likely to be: Oh not, not again. There are more books about tigers than the tigers themselves.
Yet, Sunayan Sharma's book shouldn't be dismissed as yet another tiger book. Sariska is second home to Sharma, who worked there while in the Indian Forest Service. He knows the forest well. In fact, he was instrumental in constructing numerous water bodies that would reduce animal-human and domestic-wild animal conflicts over water. He was the obvious choice to oversee reintroduction of tigers into the sanctuary after the shocking news that not a single tiger was left in Sariska.
Sharma is not the best of writers; in fact, at various points he lapses into officialese. What he lacks in style, though, he makes up for in content and passion. Starting right from his early days when he almost jeopardised his entire team by chancing upon a tiger's lair, to the calculated risks he took introducing each new tiger from Ranthambore into Sariska, we also see the evolution of Sharma through the pages. For him, tigers are not numbers or entities. They are individuals, each with its own behavioural quirks. What works for one doesn't necessarily work for another.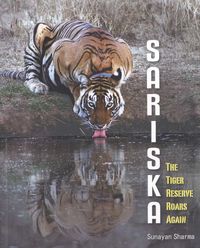 The book chronicles Sariska's transition from a cat-rich reserve to its lowest point of tigerlessness, mincing no words in telling exactly why this happened. And even as he explains the reintroduction, he points out the fragility of the tiger population. Sharma, always one for new ideas, suggests that radio collaring tigers appears to be detrimental to their breeding and should therefore be removed. He doesn't call himself an expert. In fact these lines are poignant: "It may be incorrect to boast that we know everything about the tiger... In fact, we are always in the process of learning and should be receptive to new ideas…" For those who love the wild, for those who want to understand the challenges of keeping wildlife wild, this is a book to read.
Sariska: The Tiger Reserve Roars Again
By Sunayan Sharma
Publisher: Niyogi Books
Price Rs650; pages 224