The year is 2029, and China is facing severe water shortage.The only solution, it decides, is to divert the water of the Yarlung Tsangpo river (the Brahmaputra) from Tibet to northern parts of China. India, however, opposes the plan as it would then lose a significant amount of water. This conflict of interest is at the core of General Sundararajan Padmanabhan's Next China-India War: World's First Water War-2029. The book describes events over four action-packed months that culminate in a full-blown war, which will drastically change the regional and global balance of power.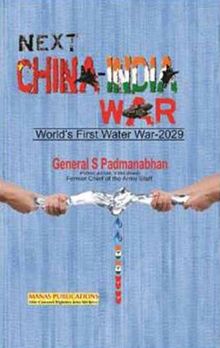 The major focus of this fictional account is on the Indian strategy, which includes making Tibet an independent country. This would appear to be an uncharacteristically aggressive stance in context of the long-held Indian position that accepts Chinese suzerainty over Tibet. But, within the world of this book, such aggression is not unexpected, as India, in 2029, is the world's largest economy and enjoys a military edge over China.
To be fair to Padma-nabhan, he does acknowledge in the preface that some scenarios might appear unrealistic, and it is a work of fiction, after all. Another way of looking at these "facts" is that they be taken as prescriptions. A strong economy and military are imperative to deal effectively with China. Also, the book puts the focus on the water issue, which tends to be relegated to the background.
Next China-India War: World's First Water War-2029
By General Sundararajan Padmanabhan
Published by Manas Publications
Price Rs580; pages 399.