Bollywood wives are usually arm candy—sugar sweet, simple and tiny. Twinkle Khanna doesn't fit any of these descriptions. The star wife of possibly India's most wooden actor, who has become a superstar by the sheer power of his beefed up body, certainly has opinions. And suddenly she is airing them out a lot. But the big question is whether Mrs Funnybones—the life and times of the rich, perennially bored housewife with her new baby, her-self centred mother and the typical Indian man for husband—is funny. Twinkle does try very hard. She sometimes hits the right note, but, like the later seasons of Scandal, is not so fun or addictive, and does not have the firepower of Olivia Pope.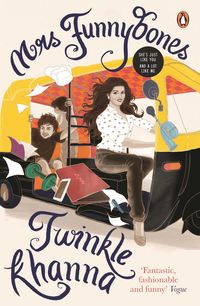 The problem? Twinkle tries to be cool. She takes the easy way—lots of references to alcohol, apple martinis, fat, body parts and scatological humour. It is, however, readable. Even if it is a little too twee. Twinkle is likeable. She is regular, and is a 'misfit'. And she is certainly smart. She also tries to be ordinary—very hard. She is tired, she is fat, she is 'milking' as the man of the house tells guests who come to see her. The book is candid, outrageous in parts, and her view on the Indian saas, her man of the house and her children, is a wonderfully fresh. She is brash, snobbish, rude, the kind of guest you would love to see on Koffee with Karan, but her gyaan about love is the man of the house putting himself sponging his son even when he has an early morning shoot.
Really laugh-out-loud funny? In the way that it wants to be—the Bridget Jones's Diary meets Moni Mohsin's The Diary of a Social Butterfly—it is not. If you are a fan of Grey's Anatomy even in season 10 when it is a mess, buy it. If you prefer more zing and an original story, then skip.
Mrs Funnybones
Author: Twinkle Khanna
Publisher: Penguin
Price: Rs299
Pages: 235