Sustainable architecture and green homes are terms that we have just started appreciating, but these were an inseparable part of the designing ethos of British-born Indian architect Laurence Wilfred 'Laurie' Baker, who stayed in India for more than five decades and left his imprint on architecture in India. Journalist Atul Deulgaonkar's book captures the person as well his philosophy in a simple style.
The book starts with Baker's journey from Birmingham to Thiruvananthapuram. Born in a Methodist family, Baker questioned his religious views and became a Quaker. He came to India in 1945 to catch a ship back to England after staying in China first as a volunteer in a Quaker ambulance unit and then working with leprosy patients. But he ended up making India his home. His meetings with Mahatma Gandhi inspired him, especially his statement that the ideal village house should be built of materials found within a five-mile radius. He started observing locals constructing their houses using indigenous materials and methods, and how well-suited these houses were compared with the western ideas of construction. Baker combined modern design principles with local craftsmanship and traditional techniques to build low-cost houses with a distinct identity. Some of the prominent features of his work are unplastered brick walls with decorative brick jaalis and gables on the roof. These were not just design elements; they provided natural light and air flow and made the building merge with the natural habitat.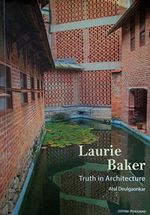 Though Deulgaonkar's efforts to describe Baker's philosophy are to be lauded, the book falters in its language, which seems to be a literal translation from its Marathi edition. The narration, too, seems abrupt at times. But read the book to get a glimpse of the genius and to get insights on sustainable housing.
Laurie Baker: Truth in Architecture
By Atul Deulgaonkar
Published by Jyotsna Prakashan
Pages 196; price Rs350