For every novelist, author, writer, reporter or anybody who puts pen to paper for the purpose of writing something or the other, there has to be a trigger, an idea, an inspiration or an emotion. For Akshay Nanavati it was fear.
Upon overcoming drug addiction in high school, Akshay enlisted in the United States Marines, despite two doctors telling him that boot camp would kill him because of a blood disorder he was born with. He spent seven months in Iraq, where his job was to walk in front of convoys to find IEDs (improvised explosive devices).
After the war, he was diagnosed with PTSD (Post Traumatic Stress Disorder) and struggled with alcohol until he reached the brink of suicide. To heal his brain, he spent years studying neuroscience, psychology, and spirituality.
To overcome fear, Akshay has since run ultramarathons, climbed mountains in the Himalayas, and skied 350 miles across the world's second largest ice cap. This led to the creation of Fearvana and his book Fearvana: The Revolutionary Science of How to Turn Fear into Health, Wealth and Happiness.
Fearvana teaches the discipline of how to transform fear, stress and anxiety into health, wealth and happiness. Weaving together inspiring stories, in-depth and unbiased research, practical insight, and actionable strategies, Fearvana helps readers turn these seemingly negative emotions into their most powerful allies.
In the foreword to the book, His Holiness the Dalai Lama says "Fearvana inspires us to look beyond our own agonizing experiences and find the positive side of our lives." Jack Canfield, co-author of the number one New York Times bestselling Chicken Soup for the Soul series and The Success Principles, says, "Fearvana is, without a doubt, one of the few books that really does stand out as a must-read book."

The book combines extensive research in science and spirituality to shift the paradigm on fear. But, Akshay says in the section, 'Why Fearvana?', "I am just one man. It would be arrogant of me to assume I could singlehandedly transform our understanding of fear, a word so ingrained in our collective consciousness in such an unfavourable manner."
Akshay has split the book into three sections – Awareness and Acceptance, Action, and Awakening. In the several chapters, he deals with things like – Making fear your friend, Our only real freedom, The birth of Fearvana, The experience of Fearvana, The gift of suffering, Love, faith and fear, among others.
In Chapter three – Our Only Real Freedom, in the section – Finding Joy in War, Akshay writes, "For the first two months of my deployment in Iraq, I hated myself. I spent my time alone, consumed with anger, rage and frustration over the leaders, the missions, the misery, the lack of freedom – everything! Eventually, I learned how to change the meaning of the war by delving into the minds of philosophers and psychologists like Marcus Aurelius and Eric Fromm."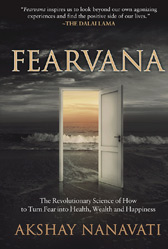 Later, on New Year's Eve 2007, Akshay finds himself writing in his journal: "I am sleeping on a floor in the basement of an abandoned train station in the middle of the Iraqi desert in winter, and I am strangely happy…I really am going to miss these good times when I get back home."
"Fearvana is the bliss that results from engaging our fears to pursue our own worthy struggle. Fearvana is running a marathon, building a business, writing a book, or anything meaningful you pursue in service of your growth and happiness. At that intersection of pain and pleasure, we become the greatest version of ourselves. Neurologically, these two seemingly contradictory forces are two sides of the same coin. 'There's a substantial overlap between those brain areas involved in processing fear and pleasure,' said Allan Kalueff, a neuroscientist at the University of Tampere in Finland. Your brain is wired to link fear and bliss into one, all-powerful force that gives you the strength to accomplish anything. When you master the art of seeking your own worthy struggle to experience bliss, you will be able to find bliss in the face of struggle, no matter how it shows up," writes Akshay in the book.
"The structure of the book is similar to the human mind, a complex machine that does not function in a linear manner, but rather flows back and forth. Think of it like the cycle of waves crashing onto the shore and receding back into the ocean. Similarly, one chapter will introduce an idea or a story, let it go, and the idea will once again present itself in a different context later in the book," explains Akshay.

Fearvana: The Revolutionary Science of How to Turn Fear into Health, Wealth and Happiness

By Akshay Nanavati
Published by Morgan James Publishing

Pages 240
(You may buy the book online at fearvana.com)