ANY BOOK on wildlife is a sheer delight to take a gander; Capturing Wildlife Moments in India by Ashok Mahindra is no exception. In fact, it is one of the best. Laden with jaw-dropping photographs and plenty of information, the book will make us appreciate the richness of Indian fauna. It will also make us bow our heads in shame and accept humanity's transgressions on wildlife and its habitats.
Ashok, a wildlife and travel photographer, took hours of preparation to capture the right moment of many wild animals and has delivered them in style. The details about the animal and its present status in the online data base of the International Union for Conservation of Nature are mentioned below each photograph. Besides, there is nail-biting narration of moments just before the click. Sample one on a Bengal tiger: "IUCN Red List: Endangered. This is Ustad (T-24) enjoying a cool moment lying in a pool of water. The temperature was soaring at nearly 46 degrees celsius that day in May. It was about 3.30pm and only his head was visible as he lay quite still…. Sometime back, Ustad attacked and killed a forest official who was with a group of labourers repairing a road damaged in the monsoon…."
Ashok's visuals make us feel as if we are right at the spot gazing at these animals in excitement. The increasing man-animal conflict is a cause for concern and as Ashok says, it is the humans who have to be blamed. Development works close to forests have put tremendous pressure on the animals. They have no choice but to enter the residential areas. Man takes it for granted that the world is just for him; isn't that bizarre? How can we use animals in any manner we want? We poach them, we injure them, we kill them, we eat them, because it pleases us. The excessive greed of humanity is taking a toll on wild animals and the natural habitat and this is now showing big time. The sooner we get into a redemptive mode, the better it is for the world that we share with these animals.
Ashok has dedicated "this book to young adults in the hope that they, and through them their children, will understand better that without forests and rain forests, without mangroves, woodlands, wetlands, swampy marshes and mudflats, there will be no species left for the following generations."
Capturing Wildlife Moments in India is a cicerone for wildlife tourism in India. Ashok has visited around 40 wildlife locations, such as UNESCO natural world heritage sites Kaziranga National Park and Tiger Reserve in Assam and Bharatpur Bird Sanctuary in Rajasthan. He offers us 13 ways in which wildlife could be effectively preserved; like removing villages and all human settlements from national parks, or maintaining armed forest patrols rather than lathi-carrying personnel. The book has a page dedicated for photography fans, where Ashok mentions the equipment he used and the technique.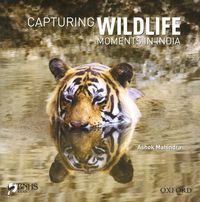 Capturing Wildlife Moments in India
Author: Ashok Mahindra
Publisher: Oxford
Pages: 146; price: Rs1,450