Yesterday, I was sitting in the recliner in my parents' room, trying to work on a story, when our driver, Gireesh, and his friend Saneesh came in to repair my parents' bedside lamps. All hope of getting some work done was lost when they started yakking away to glory—joking, pulling each other's legs, wondering whether the lamps could be fitted sideways, sharing an easy camaraderie. In our house, we call them 'Dasan' and 'Vijayan', the roles portrayed by film actors Mohanlal and Sreenivasan in an iconic Malayalam film series. One seems incomplete without the other.
I don't know Saneesh very well; I've only met him twice. But Gireesh, 32, is one of those rare men who are indispensable to our family. He is a lanky man of medium height. His face is so lean that his eyes, bright and shiny, seem too big on it, like a car's headlights. That description might have tickled him, seeing how he loves cars. His serious demeanour hides a playful nature.
Sanoosh probably won't be able to walk, paint, write or dance in his life.
Besides driving the car, there are a dozen ways in which he enriches our lives. He has a long list of numbers of electricians, plumbers and other odd-jobs men on his phone. When the pressure pump stops working or the tap starts leaking, we call him. He delivers important documents to the government offices concerned. He decorates the Christmas tree during Christmas and prepares the grill when we hold a barbeque dinner at our home. He arranges to get us movie tickets through his contacts at the cinema theatres. Then there are the smaller touches—the many ways in which he goes the extra mile for us. He sends us Christmas and New Year wishes on WhatsApp, fat, pot-bellied Santa Clauses surrounded by too bright and twinkly lights. Once he sent a photoshopped image of all of us, standing inside a gaudy, gilt-edged frame. We looked like something Raja Ravi Varma might have painted in an inebriated state. He keeps a fresh bottle of water in my father's car every day. He makes sure the car is parked as close to where we are standing so that we don't have to walk much.
He loves playing with gadgets and discussing the latest films. He watches with wonder-struck eyes a new car model on the roads. I have never seen him stand still for long. He is always whizzing about; here one moment, there the next. In many ways, he is like a child, with a childlike enthusiasm for so many things in life. Looking at him, it is difficult to conceive of the time he told me that he broke down and wept like he had never before.
It was on account of his son, Sanoosh, now around four years old. Sanoosh was born premature at 28 weeks and has a condition called cerebral palsy. According to the National Centre for Biotechnology Information in the US, 17 to 48 per cent of pre-terms demonstrate neuromotor abnormalities like cerebral palsy during infancy. Cerebral palsy is caused by a brain malformation that occurs while the brain is developing. As a result of the brain damage during its development, a child's muscle coordination, muscle control, muscle tone, reflex and balance can be affected. This means that Sanoosh probably won't be able to walk, paint, write or dance in his life. When his father places him on the floor, he can't crawl. He moves by hunkering on the floor and dragging both knees forward simultaneously.
When labour pains started for Gireesh's wife, Sujitha, on March 27, 2012, she was taken to a government hospital. There, she was told that there was no gynaecologist available at the moment and was shifted to a nursing home. Again, she was informed that the nursing home had no facilities to treat a premature baby. From there, Sujitha was taken to a private hospital in Kochi, one hour from Muvattupuzha, where they live. She delivered her baby at 1am and he was immediately shifted to the Neonatal Intensive Care Unit. When he was discharged from the hospital nearly two months later, Gireesh and Sujitha were warned of the consequences if Sanoosh wasn't taken proper care of. They were told to ensure the baby was always kept warm and not exposed to dust or dirt. Six months later, when Sanoosh was taken for a developmental checkup, the doctor informed the parents that Sanoosh was not meeting developmental milestones. The verdict was unequivocal: cerebral palsy.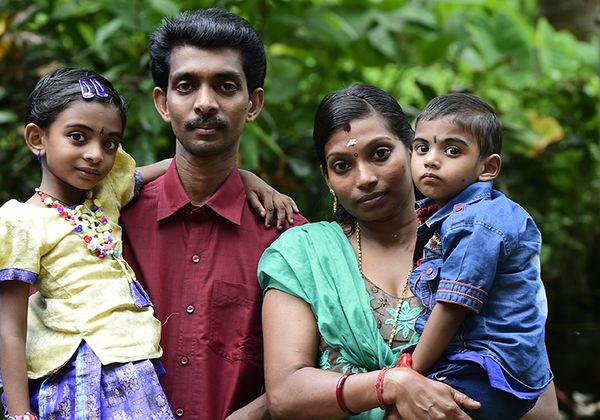 Gireesh and Sujitha were warned of the consequences if Sanoosh wasn't taken proper care of.
"I broke down and wept like I had never done before," Gireesh told me. "The doctors at the private hospital never informed us of the need to do physiotherapy for my baby after he was born. I wonder if he would have been all right if he had been given physiotherapy from the beginning. Or is his condition because of his prolonged dependence on the ventilator?"
I met Sanoosh last year, when he was around three and a half years old. He was wearing a multi-coloured shirt with the word SPORTS emblazoned across his chest. His favourite, he told me, was a Chhota Bheem (an Indian animated character) shirt. He pointed to his shoes and told me proudly that they were new. The clothes were what his parents had gifted him for Onam. Did he like watching movies? He shook his head. What about songs? He nodded vigorously. What songs did he like listening to? "Lalettan's songs." Mohanlal is endearingly called Lalettan by his fans.
Sing a song for auntie, his parents gently prodded him. Without needing further prompting, Sanoosh launched into a gusty and out-of-key version of Johnny Johnny Yes Papa. Did his teacher teach him the song? No, he told me proudly. "I learnt it by myself." He loved watching a TV channel called Kochu TV and learnt nursery rhymes from the shows on the channel. What shows did he like best? This time he needed a little help from his five and a half-year-old sister, Geetiga, sitting beside him. He repeated after her: "Dora, Jackie Chan, Pink Panther…"
When his friends come over, Sanoosh loves to watch them dance to music. He tries to tap his hands to the rhythm. "I can see how much he wants to dance with his friends," said Gireesh. Gireesh lifts his son to his shoulders and dances till his feet ache.
Sometimes Gireesh asks my mother: "My son will be able to walk soon, won't he madam?" None of us have the heart to tell him that his son will probably never walk. Ignorance is bliss, right? But how long can this kind of bliss last? It is sad to think that Gireesh's bright shirts, sunny smiles and jaunty steps are at the cost of a painful, searing reality.