Skull cap? Negative. Turban? Negative. Beard? Negative. Name? Ahmed Mohamed. Ah!
Wearing a T-shirt with the NASA logo on it, thick-rimmed glasses, and a puzzled expression, 14-year-old Ahmed looked like any other school kid in the picture that went viral on Twitter on September 16. Except that he was handcuffed. His crime—he designed a clock and brought it to class to impress his teacher, who mistook it for a bomb.
Tic...tic...goes the clock, tic...tic...goes the bomb and, hence, the 'confusion', claimed MacArthur High School in Irving, Texas. Islamophobia, bellowed the twitterati. A college student in Texas, Amneh Jafari, too, was among the ones offended by the sight of a handcuffed teenager being escorted away from his school by the police, for designing a clock. She tweeted this, and the rest....

The hashtag #IStandWithAhmed was tweeted around 80,000 times in the next hour. It has been used more than two lakh times since, garnering a reach of 86,65,246 and 87,25,845 impressions between September 18 and 20. The overwhelming support was as much for Ahmed, who is of Sudanese descent, as it was against Islamophobia and racism. America—or, for that matter, the whole world—hasn't been the same since 9/11, and Ahmed belongs to this era, which is fraught with suspicion and mistrust towards those with a Muslim name or appearance (read brown skin or turbans). In fact, there has been a five-fold increase in hate crimes against Muslims in the US, since that fateful day in 2001. Forget the Muslims, even the American kids of Indian origin who win the Scripps National Spelling Bee—the past eight winners and 13 of the past 17 have been of Indian origin—are not spared on social media.
Then, why all the hullabaloo about this particular boy, you might ask. Possibly because, Uncle Sam came to the party, inviting the teenager to the White House.

Ms Clinton, too, voiced her support.

And one Mr Zuckerberg.

And the bandwagon took off, picking Twitter, MIT and Google (headed by an American-Indian, Sundar Pichai) on the way. As for Microsoft (headed by another American-Indian, Satya Nadella) and others who missed (really?) the bus, Ahmed has started a Twitter account—@IStandWithAhmed (that was easy!)—which has already crossed 1 lakh followers.
And now, there is a whole new conspiracy theory doing the rounds that it's possible the teenager, didn't, after all, 'invent' the clock. That he just took it out of the box, attached a few cables to it to make it look like some kind of a device and put it in his pencil box, which resembled a mini briefcase. A bomb prank went wrong?
The question, however, is—will these bigwigs stand with every Ahmed who finds himself at the receiving end of hateful stares or racial slur? That will be asking too much, isn't it?
JustSaying: Is it just me, or you find the resemblance eerie, too?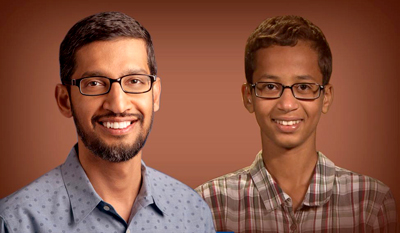 It's Sundar Pichai on the left, that is if you didn't know already