Peace is a journey of a thousand miles and it must be taken one step at a time - Former US president Lyndon B. Johnson
No one knows this better than the people of India and Pakistan, who have set out on this difficult journey several times, only to be set back every time by politics of hate. In the game of one-upmanship between the political bosses of the country, spurred by vested interests on both sides of the border, it is the ordinary citizens who often end up on the losing side.
However, every now and then, someone takes that small step, which reaffirms our belief that all is not lost. Last week, it was a Mumbaikar, Ram Subramanian, who took that step, in response to Shiv Sena's intense hate campaign against Pakistan, and anything and anyone associated with it. He posted a selfie with this message on Twitter: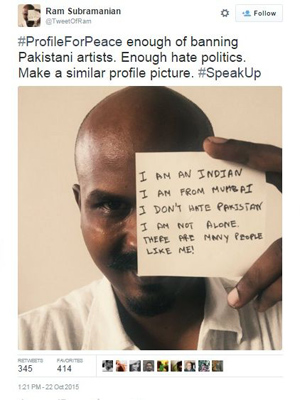 Little did he know that his small step would encourage others to follow in his footsteps. Digital footsteps, that is. Soon, #ProfileForPeace snowballed into a trending topic across social media, catching the fancy of the people of both countries. Between October 25 and November 1, the hashtag had reached 62,08,366 accounts and made 64,54,724 impressions, on Twitter and Instagram. Almost half of the total number of tweets were original posts.
A few celebrities, who had been vocal about social issues in the past, too, chipped in with their contributions to the noble cause.
Mumbai has been the epicentre of Shiv Sena's attacks against Pakistan, with the 'fight' spreading to Gurgaon and Delhi, too. The party maintains there cannot be any engagement with the neighbouring country until it stops its 'state-sponsored terrorism' against India. With its relations with the BJP in the coalition government in Maharashtra under tremendous strain, Shiv Sena seems to have changed gears to stay relevant by reverting to its time-tested, violent tactics.
Be it the blackening of Observer Research Foundation chairman Sudheendra Kulkarni's face for organising the book launch of former Pakistani minister Khurshid Mahmud Kasuri, or disrupting the cricket talks between the two countries by barging into the BCCI office, or threatening to disrupt legendary Pakistani singer Ghulam Ali's concert in Mumbai and Pune, Shiv Sena seems to be doing what it does best.

Only this time, people decided to fight their hate-mongering with love. There were, expectedly, many who used the hashtag to try and vitiate the atmosphere further. But, fortunately, love won. Peace won. May the journey of peace never end.
JustSaying: Around the same time last week, in an interview, former Pakistan president Pervez Musharraf admitted that Pakistan trained terror groups like LeT in the 1990s to fan militancy in Kashmir. Peace, indeed, is living dangerously.