A couple of years ago, I had to go to Silicon Valley... of India, that is, for work. I had never set foot on Bengaluru soil but had heard and read quite a lot (enough to warm the cockles of any guy's heart!) about the proverbial El Dorado of the south. But what stumped me was a piece of advice from one of my friends, who had been in the city long enough to grow roots.
"The autowallahs will pester you. For heaven's sake, please don't speak to them in Hindi. Malayalam, or even English, is fine, but not Hindi," he warned me.
I had been similarly warned when I went to Chennai. On my first day to work, I tried, lost that I was, asking directions in Hindi to a middle-aged man, who stared at me as if I had asked his daughter's hand in marriage.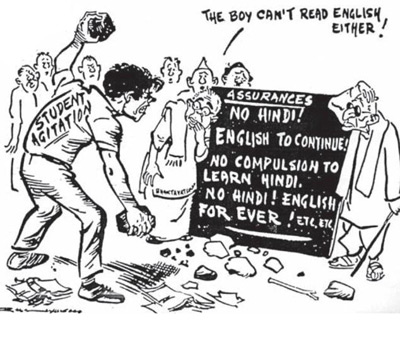 R.K. Laxman's cartoon on anti-Hindi agitation in Tamil Nadu says it all
Tamil Nadu had been at the forefront of anti-Hindi agitations even before India became independent. In 1937, when the Madras Presidency government led by C. Rajagopalachari introduced compulsory teaching of Hindi in schools, the then Justice Party and Dravidian leader E.V. Ramasamy (Periyar) opposed the move vehemently, and after three years of protests, the order was withdrawn. In 1965, there was another round of anti-Hindi agitations led by the Dravida Munnetra Kazhagam. And to think the demi-gods of Tamil silver screen, Rajinikanth and Kamal Haasan, acted in Hindi films. Blasphemy!
Cut to 2015. The issue is still burning but the battlefield has shifted from the streets to the social media. What was interesting, however, was that, ahead of and during the World Hindi Conference from September 10-12 in Bhopal, the Kannadigas, along with the Tamils, were instrumental in making #StopHindiImperialism and #StopHindiImposition trend on Twitter and Facebook. While the former garnered 6,23,642 impressions and reached 5,60,784 accounts, the latter managed 6,77,632 impressions and a reach of 1,64,653 across three days starting September 10.
And it was not south India alone. Bengalis and Marathis, too, made their presence felt. Anti-Hindi supporters cite the 2001 census (yes, the 'latest' linguistic survey was 14 years ago), which said that a little over 40 per cent declared Hindi and kin as their mother tongue. Among the other 21 scheduled languages, Bengali came next with around 8 per cent, followed by Telugu and Marathi, both around 7 per cent. However, what one must realise is that, though almost 60 per cent of Indians might not swear in Hindi, they do understand when one swears at them in it! There's no denying the fact that Hindi is understood by a majority of the Indian population.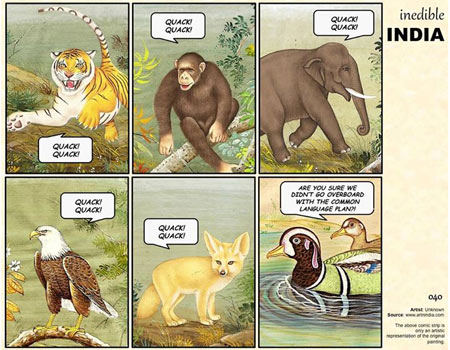 According to the Constitution, we do not have a national language. The official languages are Hindi in Devanagari script and English. In fact, much of the ire now is not directed at the language itself, but at the BJP-led Union government. In over a year of Narendra-Modi rule, there have been enough instances to lend some credence to his detractors' claim that the BJP is trying to paint the country saffron. The prime minister's speeches addressing the nation in Hindi—from Independence Day to Teacher's Day—are being projected as a deliberate attempt to "impose Hindi" on the nation.
What has not helped matters are remarks by Modi ("If we forget Hindi, it will be a loss to the country."), and senior ministers like Sushma Swaraj ("It pains me to say that today, not only do we have to think of promotion of Hindi but also its protection.") and Rajnath Singh ("Hindi should be made one of the official languages of the UN."). RSS ("Hindi is the language with the potential to chase away English from the country."), too, pitched in with an editorial in its mouthpiece Panchjanya. That, over 30 per cent of the tweets using the above-mentioned hashtags were original posts, and not just re-tweets, underlines the fact that such comments have not gone down well with the public, with a Facebook group Promote Linguistic Equality (PLE-Bengaluru) leading the charge.
The Bengalureans, if I may call them so, seem to be discovering their Kannada pride. Thankfully, I had the 'foresight' to pay heed to my friend's advice two years ago and, hence, was able to live happily ever after (two days, that is) in Bengaluru.
JustSaying: Three things were supposed to die a natural death after India's independence—caste-based reservation system, English and the Indian National Congress. Two are alive and kicking, and the third....