"Kanoon ke haath bahut lambe hote hain!" (Which, literally, translates to: the law has loooong arms, and, hence, a loooong reach.)
We must have lost count of the number of times we have heard the virtuous hero (preferably, a cop) mouthing this line to the not-so-virtuous villain in Bollywood. And did we believe it? Well...er...ahem. Times are changing now, though.
So, what do the law-keepers have now that those of the yesteryear did not? No, they do not have maa (if you are scratching your head, go and fill up the "Deewar"-shaped hole in your life!). The police have at their disposal the power of social media and my, aren't they using it effectively.
In Alcoa, Tennessee in the US, a woman lost her purse at a McDonald's outlet. Not one to give up, the woman and her husband put the CCTV footage on their Facebook page. Soon, hints started flowing in about the identity of the woman who nicked the purse. The police used it to track her down.
Around the world, many law enforcement agencies are waking up to the possibility of using social media as a tool to solve cases. Closer home, too, the police are active on the social media sites to address the grievances of the people quickly and effectively. For example, the Goa Police were able to locate and fine a couple from Madhya Pradesh who were...well...getting adventurous on a motorbike, and that, too, without wearing helmets. The picture says it all!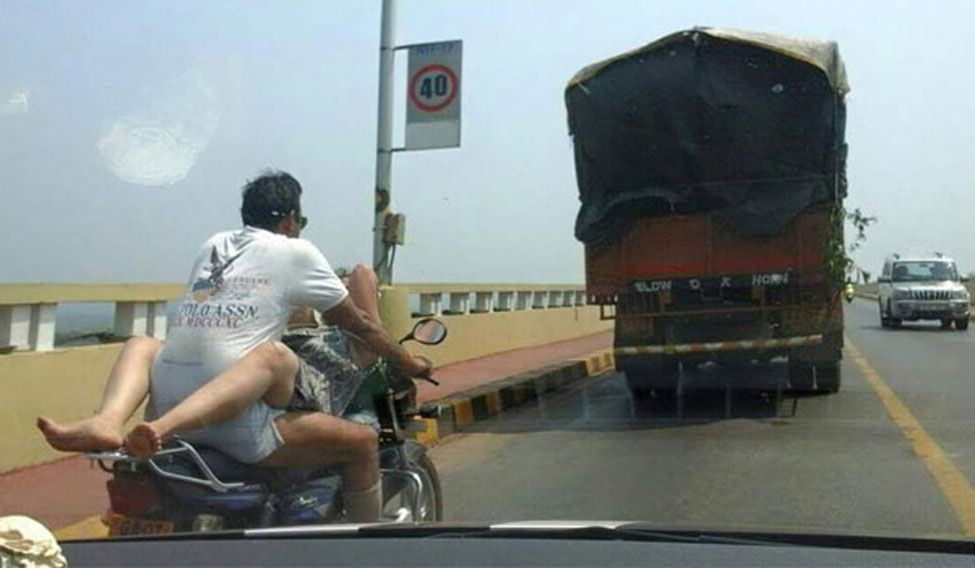 From the social media monitoring cells set up by the Delhi and Mumbai Police to "gauge public sentiment" to solving several man-missing cases by circulating the pictures and contact details through WhatsApp, from tracking the habitual offenders using their social media behaviour to encouraging people to share videos and pictures of wrongdoings near them, the police are leaving no stone unturned to leverage the reach and speed of social media.
With over 2,75,000 likes, the Facebook page of Bengaluru Traffic Police (or BTP, to be cool) is easily one of the most popular and active pages. It takes note of traffic violations, roadblocks, breakdowns and what not.
The country's ace investigating agency, the CBI, too, in its November 2013 report on Social Media and Law Enforcement had pressed upon the importance of the role of social media in solving the cases.
The long hands of law might have been strengthened by social media, but the law-breakers are always on the lookout to stay a step ahead of the law-keepers. And so, it would serve our cops to remember Winston Churchill's words: "To improve is to change; to be perfect is to change often."
JustSaying: It's another thing that the couple from Alcoa, Tennessee, did not recover any of the lost items.