The relation between the teachers and the students was of utmost importance in the Potter series, and that is what made it so endearing to children and adults alike.
Matha, Pitha, Guru, Daivam—goes the popular Sanskrit adage. Necessarily in that order, they say. So, in the reverence order, parents and teacher come before the Almighty. A couple of hashtags that were trending in the past week had Yours Truly feeling nostalgic about his alma mater (read school) and the teachers. It's strange, but usually, it's only after you step out of that second home that you actually see the human side of the species called teachers.
So, on September 1 we had #BackToHogwarts (I am a die-hard Harry Potter fan. Period.) and four days later, we had #ThankYouTeacher trending on the social media. A word about the former first, strictly for Muggles (non-magic people!). The first day of September is when the students (read would-be wizards) head back to Hogwarts School of Witchcraft and Wizardry for the new term. It has been eight years since the last book of the HP series was published and four years since the last movie was released, but the craze of this $15-billion brand refuses to die down. So, it was a day of 'homecoming' for Potter fanatics, who were speculating how it would be at the King's Cross Station in London from where the train to Hogwarts departs.
A fan even posted this—real? Anyway, the time of departure should have been 11am.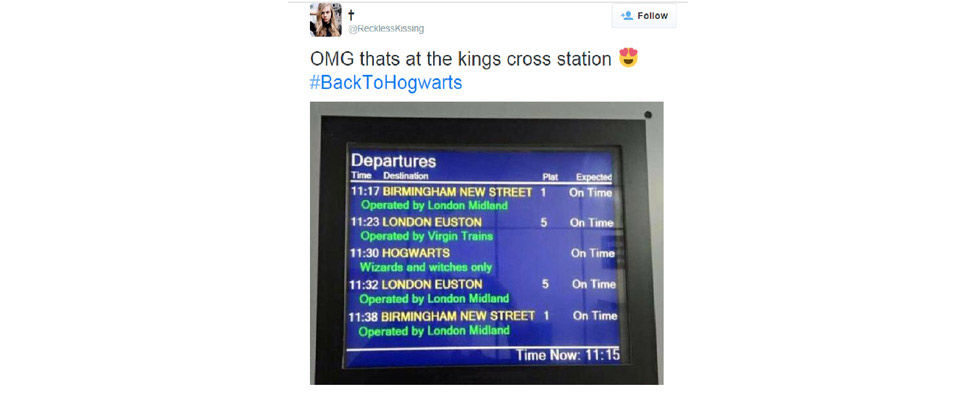 Author J.K. Rowling, too, did her bit by first tweeting that it was going to Harry Potter junior's (James Sirius Potter) first day at school, and later 'informing' that he has been sorted into the Gryffindor house (just like his father).
All said, the whole story about Harry and Lord Voldemort revolved around Hogwarts the school, which had a headmaster—Albus Dumbledore, "the greatest wizard in the world" (...sniff)—and highly-impressionable teachers like Professor McGonagall, Professor Snape (I can still feel my skin crawling!), 'Professor' Hagrid and Professor Trelawney, among others. The relation between the teachers and the students was of utmost importance in the Potter series, and that is what made it so endearing to children and adults alike.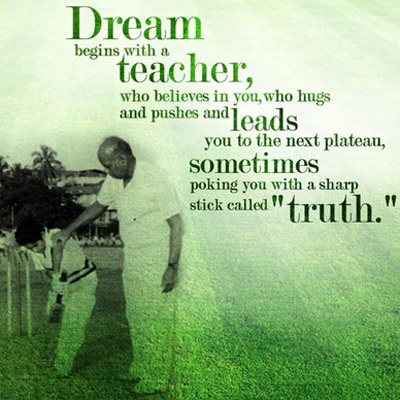 Sachin's tribute to his coach Ramakant Achrekar
So, when we say #BackToHogwarts reached 82,29,266 accounts or made 1,02,30,281 impressions in five days, one realises that it, in a way, validates the second hashtag, which is a salute to the teachers. What makes them special is that they have the ability to make or break characters. A good teacher can inspire you to unimaginable heights, but a bad one can scar you for life. That, almost all teachers are parents, too, (but not vice versa... remember, all alkalis are bases, but all bases are not alkali!) add to their responsibilities.
In fact, one day hardly seems enough to fully appreciate a teacher's role in a person's life. Probably, that's why we have two—while Indians celebrate Teacher's Day on the birthday of Sarvepalli Radhakrishnan, the country's second President and a reputed scholar, the rest of the world celebrates it exactly a month later! With President Pranab Mukherjee and Prime Minister Narendra Modi to Sachin Tendulkar and Bollywood biggies like Anil Kapoor, Shabana Azmi, A.R. Rehman and Shekhar Kapur, taking to Twitter to express their love and gratitude to their teachers, #ThankYouTeacher and #HappyTeachersDay took the social media by storm—the former managed a reach of 28,91,076 and made 72,55,337 impressions between September 4 and 6.
Responding to a question while 'teaching' a class on the eve of Teacher's Day, President Mukherjee (or Mukherjee Sir, as he wanted the students to address him) said his best teacher was his mother. It usually is for all of us, isn't it? Which, if true, blurs the lines in the reverence order set by the Sanskrit adage. Or did it mean all four are, in fact, one?
JustSaying: The role of a teacher in our lives could not have been elucidated in a better way!