"Kaun kambakt football nahi khelta!" It's true, isn't it... what the scrawny kid says in the Indian Super League 2015 ad? It would be hard to find a person who has not played football (soccer, if you want) ever in his life. (Come on, admit it... you probably wouldn't have bent it like Beckham but would have at least kicked a plastic ball as a toddler!) In my childhood, and even now I am sure, unlike cricket, all it takes to start a game of football is a pumped up piece of rubber and an open space. Unlike cricket, football can be played in the rain. And unlike cricket, nobody goes home complaining he didn't get even a single touch on the ball.
Complaints, albeit of a different type, were flying thick and fast when ISL was launched in 2014. The naysayers predicted the football league, modelled on the cash-rich and controversial Indian Premier League, will never succeed. That it will kill the domestic I-League. But the cries of #LetsFootball drowned all such murmurs, making the inaugural edition of ISL the fourth highest attended football league in the world. The average attendance was 24,357, lower only than the Premier League, Bundesliga and La Liga. The ISL website got 1.6 crore online video views during the tournament. Social media, too, got a first-hand experience of the frenzy, with more than 18 lakh conversations on Twitter and Facebook, 1,000 crore page impressions and 2,75,000 registered members.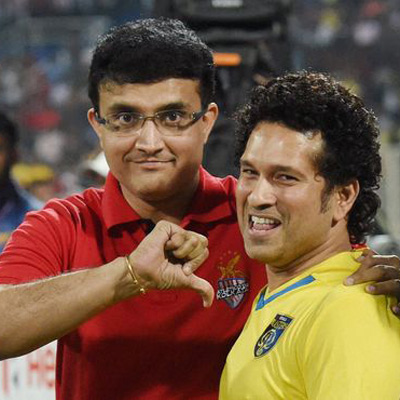 (File) Kerala Blasters FC team owner Sachin Tendulkar along with Atletico De Kolkata owner Sourav Ganguly during the final of the 2014 Indian Super League, in Mumbai | PTI
It's a relief for Indian football. Though it's far too early, rather immature, to even compare it to IPL, the ISL has done what the other domestic leagues haven't been able to do all these years—bring about a football culture in the country. Except, perhaps, during the heydays of the Santosh Trophy—but those seem like Before Christ days now. The 'exploits' of the Indian national football team, currently ranked 167th in the world, haven't helped either.
So, what did the organisers do? They plucked the stars, whom the world worships, and put them on the ground. Enter heroes like Alessandro Del Piero, David Trezeguet, Nicolas Anelka, Luis Garcia and Robert Pires in the first season, followed by even bigger names like Roberto Carlos, Lucio, Helder Postiga and Florent Malouda this season. And it was not just the footballing greats who were summoned. The presence of Bollywood biggies like Hrithik Roshan, John Abraham, Ranbir Kapoor and Abhishek Bachchan, and cricketing legends Sachin Tendulkar and Sourav Ganguly, has added to its appeal. Each one of them commands a massive legion of fans on social media, a chunk of which has directly translated into followers of the ISL.
The hugely successful league seems to have picked up from where it left off last season, with #ISL2015 and #LetsFootball ruling the trends even before it kicked off on October 4. The former hashtag made 1,40,25,038 impressions and reached 82,88,984 accounts, while the latter made 77,70,757 impressions and a reach of 23,86,877 between October 3 and 4. Not to mention over 40 per cent of original tweets with #ISL2015. With over 20 lakh likes on its official page on Facebook and around 1.5 lakh followers on Twitter, the ISL has made Indians fall in love with the game of the masses, all over again.
JustSaying: In the ad, the scrawny kid waits outside the ground, waiting for the skies to open up, so that the cricket match will be called off and he can #LetsFootball. A reminder that football is still waiting on the sidelines in a country obsessed with cricket.