"Give me blood, and I shall give you freedom," said Subhash Chandra Bose, urging Indians to fight with him for freedom from British rule. A woman asked, "Netaji, can I give it in instalments?" While the boys were ROFL over this 'joke' in school, I remember vividly the embarrassment on the faces of the girls in our group. Menstruation was a taboo in our society back then, and it is still now.
As a result, there was hardly any explanation given when my mother—the only woman in my family—would keep a 'safe distance' from anything to do with God for a few days every month when she was 'impure'. Staying away from the kitchen was not an option for her—much to my and my brother's relief—because cooking was hardly our father's forte! My questions about the logic behind this abstinence were shot down by a you-will-understand-when-you-grow-up look from my mother.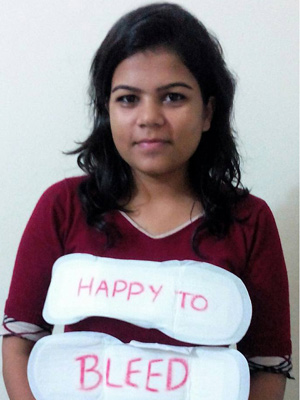 Nikita Azad
Now, years later, a 20-year-old college student, Nikita Azad, has raised the same question in an open letter to the president of the Travancore Devaswom Board that manages the Sabarimala Ayyappa Temple in Kerala. Women between the ages 10 and 50 are barred from going to the hilltop temple. She was annoyed by the "sexist remarks" of the president, Prayar Gopalakrishnan, that he will consider letting women of all ages enter the temple when a machine is invented that can confirm whether it is the "right time"—that is, when they are not menstruating—for them.
Thankfully, her letter was not lost in the din called the internet. Instead it gave birth to a week-long campaign #HappyToBleed on social media on November 21. The campaign soon caught the eye of the young, with youngsters posting pictures of them posing with placards and sanitary napkins with #HappyToBleed written on it. Between November 22 and 29, the hashtag reached 54,73,530 accounts on Twitter and Instagram, and made a whopping 1,19,14,310 impressions.
Not one to rest on her laurels, Nikita followed it up with another post highlighting the need for the Union government, along with the state governments, to ensure free menstrual care services to women belonging to all strata of society. She also added in the same breath that menstrual care should not be allowed to become "profit-making ventures" for the corporates or corporate-funded NGOs.
She made it clear that it is "not a temple-entry campaign" but "a protest against patriarchy and gender discriminatory practices prevalent in our society" and age-old taboos. Spot on, I would say. Otherwise, their voice would have been drowned, as it had on numerous occasions earlier, in the why-are-you-hell-bent-on-entering-the-Sabarimala-Temple-when-there-are-so-many-other-temples rhetoric. It is heartening to see women putting up a fight to assert that menstruation doesn't make them impure; it is just a biological process. And it is messy and often painful. Empathise, if we, men, can; never ostracise.
JustSaying: Coming back to the 'joke', Netaji would have found it easier to free India from the British than freeing the Indian women from the clutches of patriarchal norms of Indian society!