There are two types of bikers—those who buy and build bikes and those who buy built bikes. There are problem with both these kinds. When you decide to buy a bike and then build it your own way, there are endless ways to make it unique. But then, how many of us are willing to walk the plank and take the plunge to see through the project? And when you go the other way to buy bikes as they are, you lose exclusivity and should be happy with a bike that looks just like the 100 before it. Triumph has decided to walk a thin line in between these two categories by bringing you a custom bike that is factory built. Not convinced? Read on.

The Triumph Bonneville Bobber could be the bike that gives you the pleasure of owning a Bobber without all the pain. And from the looks of it, the bike manages to do just that. It has all the characteristics expected of a Bobber—a low stance, single seat, wide flat bars, minimal bodywork, sculpted tank, wide rear wheel and hard tail look.

Though the Bonneville Bobber is based on the Bonneville T120, you cannot see any similarities in design, except for the engine. If you are not sold on how it looks, maybe you will be on how it sounds. The sawn-off twin exhaust makes an invigorating soundtrack that lifts you up, ready to take you on an "Interstellar" experience.

The engine, a 1,200 cc parallel twin engine, has been given a different state of tune than the T120. The difference being a split air intake, different exhaust system, revised torque delivery and fuel mapping. All this translates into a bike that starts gloriously, takes off superiorly and delivers a mid-range response, mightily. Pardon the exaggeration but it's not.

The Bonneville Bobber makes a maximum power of 77 PS at 6,100 rpm with 106 Nm of peak torque arriving at 4,000 rpm. The power is smoothly transmitted through a six-speed gearbox. Though the torque peaks at 4,000 rpm, the Bobber delivers most of the torque under 3,000 rpm for that mid-range miracle. The bike also gets a ride-by-wire system that is linked to two riding modes—road and rain. The difference between the driving modes is not the power output, but the way it gets delivered.

Suspension duties are fulfilled by KYB with 41mm forks to the front and a monoshock to the rear. The ride is on the firm side of things but makes going through the twists and turns engaging. You don't get a passenger seat option, so put on your lone ranger suit and let the bike guide you to serenity. Other driving dynamics like slightly forward foot pegs, longer gear ratios, low-range engine response are tuned to suit the cruiser characteristics of the Bobber. Furthering the bob job are 19-inch and 16-inch front and rear tyres with fat Avon Cobra rubber.

The single seat is beautiful in shape and comfortable in function and can be adjusted (up and forward or down and back position). In true Triumph fashion, details have been looked into finely and things like battery box with stainless steel strap, drum brake inspired rear wheel hub, rear mudguard loop and bar end mirrors stand proof. Features like torque assist clutch system, ABS, switchable traction control, cruise control and engine immobiliser bridge the beautiful connect between classic design and current technology.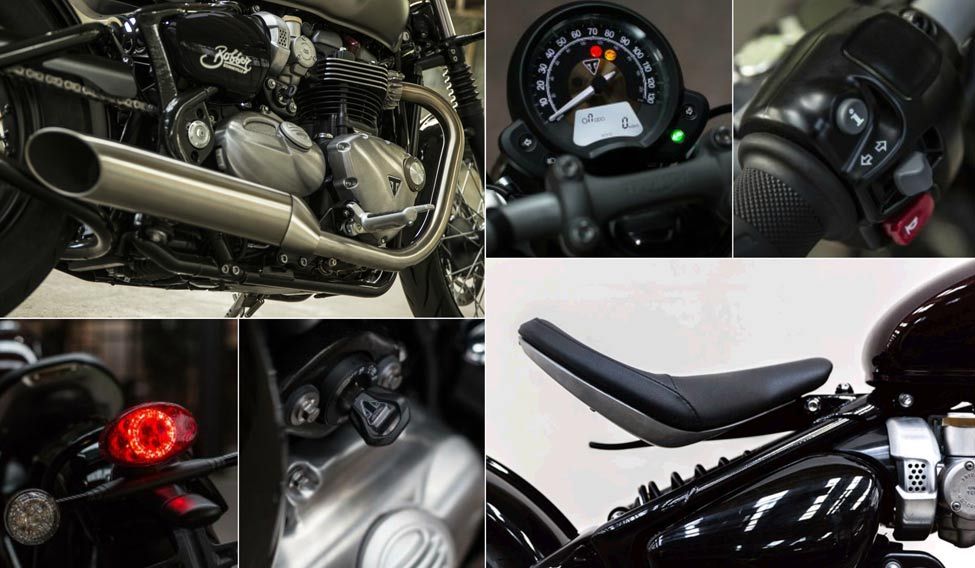 The 310mm and 255mm single disc brakes for front and rear take care of the braking department. Despite the good size, the brakes lack the initial bite and fail to instil confidence for a bike that is quick on its feet.

Being a Bobber, the bike has to have customisation options and Triumph gets it covered with over 150 additional accessories that include Vance & Hines silencers, ape-hanger high bars, headlight bezel, bar end peep mirrors, clip on handle bars, shortened front mudguard, heated grips, swing arm bag, ribbed or quilted seat and more.

So, Triumph Bonneville Bobber plays to your senses of sight, sound and feel in a satisfying manner like no other machine in its segment and price range. Priced at Rs 9.09 lakh (ex-showroom Delhi), the Bobber is available in colours such as Jet Black, Competition Green and Aluminium Silver with hand painted coach line, Morello Red and Iron Stone.