About four years ago, at Tata Motors, they realised that the compact SUV segment was going to grow. At that time, it was still very nascent, but they thought of doing something different, says Tim Leverton, chief technology officer, Tata Motors. "We wanted to create a design that was appealing to younger people, that had a more dynamic, sporty and edgy combination with strengths and functional attributes of a compact SUV," he says.
Pratap Bose, their design head, came up with the initial designs for Nexon. He wanted to capture the spirit of two videos he had seen. One video was of Parkour and the other was of a flash mob at Victoria Terminus, Mumbai. When the concept car was shown at the Auto Expo 2014 in Delhi, it set many hearts aflutter and I, for one, was very excited about what lay ahead for Tata's passenger car business. Now, three years on, I am delighted that the design has been executed beautifully.
"When designers create concept cars they tend to use a little bit of licence in terms of how they express their creativity," says Leverton. "When the engineers come along, they say the structure or the people will not fit. I was very keen that we stayed as close as possible to the design of the concept. But we combined that with the functionality that we needed and it really gave substance to the car."
The Nexon is, undoubtedly, a beauty, to say the least, and in the process of trying to keep the designers and engineers happy, Tatas have upped the ante for their passenger cars. Mayank Pareek, president, passenger vehicles business unit, Tata Motors, says: "Predominantly we had taxi customers but we started getting young customers with the IMPACT design philosophy [announced in January 2016], especially with Hexa, Tiago and Tigor. Moreover, as people spend upwards of one hour commuting, it has to be very comfortable, an extension of your office or home, so we turned our attention to this."
The Nexon feels solid and secure, and also provides great visibility to the driver. The coupe-styled roof and the X-shaped back give the car a beautiful look and a distinct identity, making it instantly recognisable even from afar. The white ceramic strip is a beautiful design flourish and has been executed well on cars painted blue and red. But we will have to wait and see how it looks on other body colours. The split tail lamps and the 16-inch machine-cut alloy wheels which come with wider tyres make the Nexon look more attractive.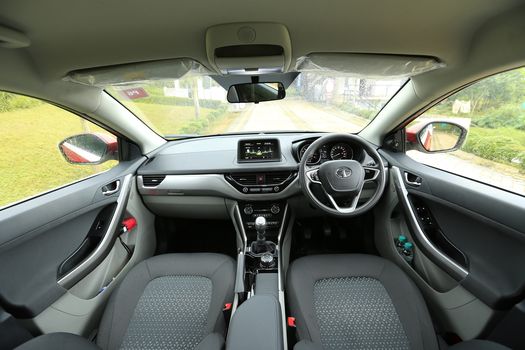 However, the Tata Nexon is not just about looks. The tail-gate opening is very large and the numerous innovative spaces they have defined in the cabin should keep both the front and rear seat passengers happy. There are 32 utility spaces inside, including one to keep your wet umbrella in!
There is a lot of emphasis on the second row. You will notice that even if there is a really tall driver who has pushed his seat right back, there is still a great deal of space between the front row and the second row. That is quite a remarkable thing for this sleek and sporty looking compact SUV. It also provides ample head room, shoulder room (distance from one door to another) and leg room.
While the touch and feel of textures on the dashboard does not disappoint, the seats should also be offered in leather, not just fabric. There is a sleek instrument panel on the Nexon and a console in the centre. The Connectnext Infotainment system by Harman is a very good offering. (It comes with eight speakers and four amplifiers.) Android Auto is on offer and Apple Carplay is on its way.
Tata Nexon comes with two new engines—a Revtorque, four-cylinder 1.5 litre (1,497cc) diesel, with 110ps power at 3,750rpm and 260Nm torque at 1,500 to 2,750 rpm; and a Revotron, three-cylinder, 1.2 litre (1,198cc) petrol, with 110ps at 5,000rpm and 170Nm at 1,750 to 4,000rpm. Both are combined with a six-speed manual gearbox. So, whether you are looking for the ruggedness of the diesel engine (my pick because of its peppiness) or the quiet refinement of the petrol engine, both are on offer.
The Nexon felt very surefooted, not once making me feel nervous and I could drive it in the sixth gear even on the twisty, winding roads of Idukki, Kerala. Stable, yes, solid, yes, it checked all the right boxes in terms of ride, handling and drivability. The steering is precise, but it could have been meatier with a leather grip. There are multiple drive modes such as Eco, City and Sport (the display colour changes according to the modes, so you know which mode you're driving in). There is also a pretty stylish remote key. You can also opt to wear one as a wrist band, if you hate carrying keys in your pockets.
With a stunning design, fabulous drive and packed with technology, the Nexon should be a crowd-puller. If it is to compete with the likes of the Maruti Brezza and Hyundai Creta, pricing the car right is going to be crucial. Because only then will the Nexon truly become a game-changer.
"Ratan Tata drove the Tata Nexon in March and he was very impressed, particularly with the refinement of the car," says Leverton.
I agree. A stellar product from the Tata stables. Take a bow, Tata Motors.
TATA NEXON
Length: 3,994mm
Width: 1,811mm
Height: 1,607mm
Ground clearance: 209mm
Fuel Tank: 44 litres
Kerb weight: 1,305kg (Diesel); 1,237kg (Petrol)