The new BMW 5-Series is not just elegant and luxurious, it's also a performer.
The BMW car, famous for its kidney grille, has really stylish contours, a beautiful flowing roofline and a low-slung front, which really make the car stand out. Besides, the car is now lighter by 70kg, as compared to its predecessor, slightly more muscular, sportier and comes with a sort-of forward-lunging stance, all of which immediately make it instantly appealing to most speed lovers as well as to buyers who are in the market, looking for a car in that segment. Add to that alloy wheels in a dual-toned polish which adds more appeal! But that's not all, besides all of this, what BMW has gone and done is that, it has packed in a punch, making the car torquier, thus rendering the new 5-Series more exciting than ever before.

Inside, the seats are a beautiful rich, luxurious Dakota leather with contrast piping. You get a well-appointed cabin that is not just a visual delight, thanks to the beautiful materials such as chrome, wood and leather but also a roomier space offering great quality fit and finish along with superb ergonomics best suited for both, the driver as well as the passengers. All the controls are within easy reach of the driver—the instrument display, the BMW ConnectedDrive systems such as the iDrive and the beautiful BMW display. All of them truly make the BMW 5-Series not just a very desirable car but also an extremely comfortable car to be in.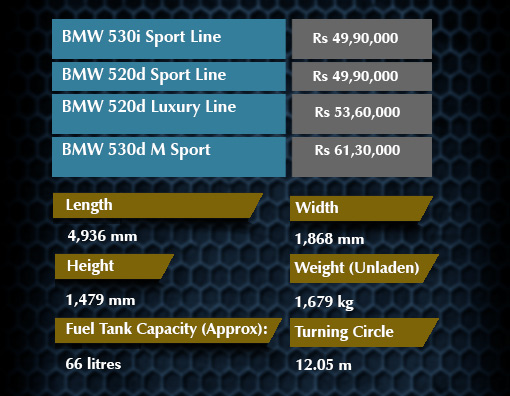 The BMW 5-Series is available in three diesel variants and one petrol variant with engines powered from the BMW EfficientDynamics family, making them powerful and efficient, as always. We drove the 8-Speed Steptronic automatic tranny which was powered by a 2-litre, 4-cylinder diesel engine of the 520d that produced an output of 190 hp, and a maximum torque of 400 Nm @ 1750-2,500 rpm. The 7.5 second car was a sheer delight to drive and as we unleashed the car's power, exploring its capabilities bit-by-bit, experiencing its performance, we have to say, we were pretty much mesmerised because, truth be told, we weren't quite expecting this!

The Driving Experience Control switch allowed us to choose from different driving modes such as Comfort, Sport, Sport +, ECO PRO and Adaptive and throughout we experienced the car's much renowned driving comfort. Not once did we get nervous or at any point in time feel unsafe over the bumps or the uneven surfaces. In fact the Dynamic Damper Control enhanced the overall ride quality thus offering us a very pliant ride at all times. The best part was not being able to feel the bulk of this long and wide car, it was so nimble and felt so sure-footed that we just didn't want to stop driving it. The only thing that one has to watch out for is the fact that the car is quite wide and given Mumbai's roads, that may be something that one may have to worry about especially as it is a city where finding parking spots can be a nerve-wracking experience.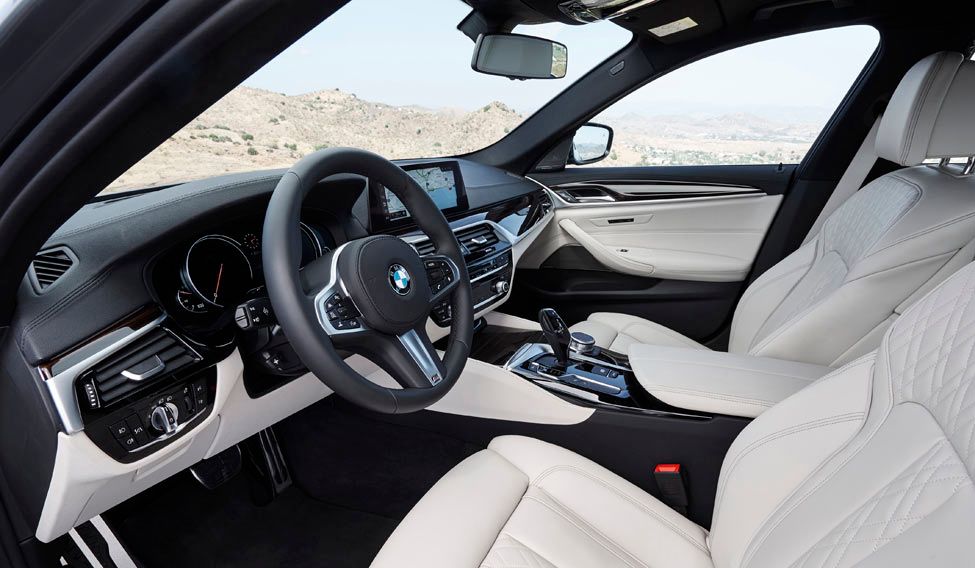 In terms of safety features, it comes with the usual frills that most cars come with these days such as Anti-Lock Braking System (ABS) and Dynamic Stability Control (DCS). But since it is a BMW, it also offers other unique safety features such as electronic vehicle immobilizer, crash sensor and integrated emergency spare wheel. There are also the Runflat tyres (RFT) with reinforced sidewalls.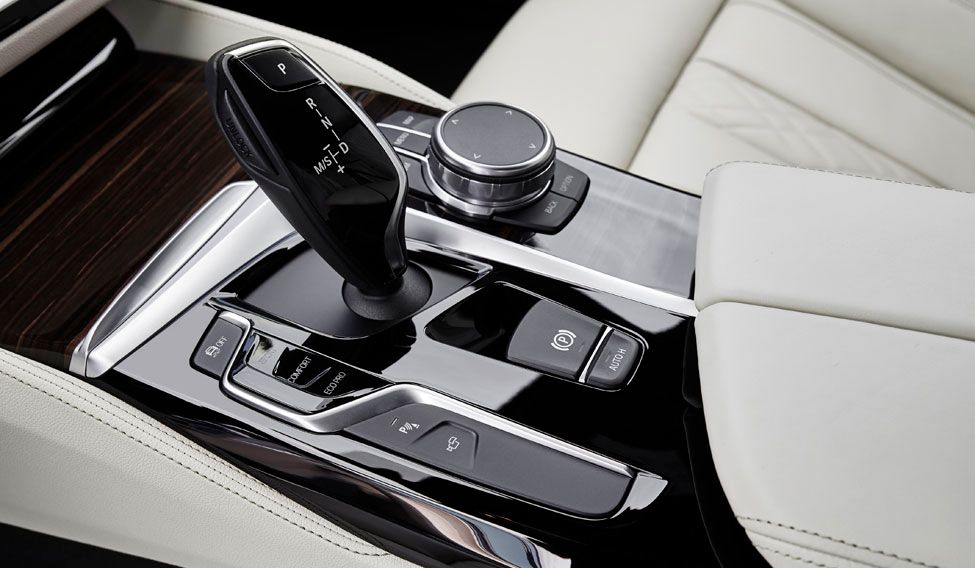 If you are looking for a smart car that not only looks good but is practical, too, something which, thanks to its lightweight construction, reduces fuel consumption and increases performance, has different driving modes to choose from and is packed to the gills with advanced technology in the form of fancy touches such as Gesture Control, Remote Control Parking and a display key which gives you all the relevant information about your car (servicing schedules, for instance) on your key's display screen, then you may want to consider the BMW 5-Series. It also complies with the BS IV emission standards. With a service package that will cover your routine maintenance, and something that suits your pocket, this may just be the luxury car that you have been waiting for which is both practical as well as fun.